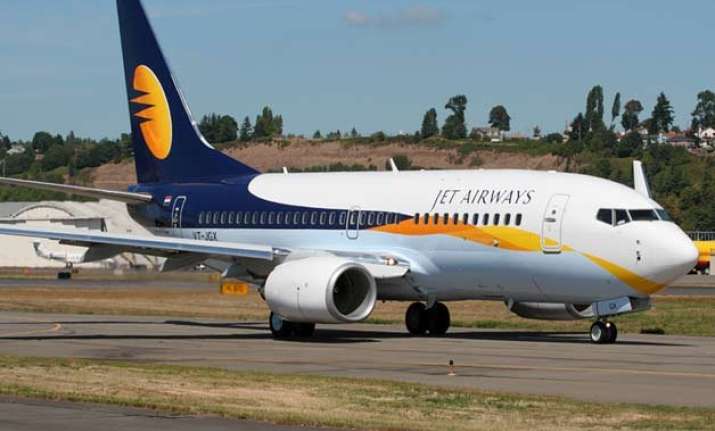 New Delhi: A Jet Airways customer has dragged the airline to aviation regulator DGCA as he sought a probe into the delay of one of its flights after accusing the airline of misleading the passengers regarding the cause behind the same. 
Alleging that the airline delayed a Mumbai to Jaipur flight last week due to "non-availability" of a pilot and not for "ATC clearance" as repeatedly announced by the commander, Mehmood Abdi, a Mumbai-based corporate lawyer, has urged DGCA "to initiate inquiry into the matter and put remedial steps in place so as to prevent recurrence of such suffering to air passengers". 
In a complaint e-mailed to DGCA Joint Director General Lalit Gupta, Abdi said, "I was booked on flight 9W416 from Mumbai to Jaipur which was scheduled to leave Mumbai at 6:35 P.M. But got stranded for over two hours as there was no senior pilot (first officer) available in the cockpit as he was missing. All along, the second officer and the crew were lying to the passengers by telling them that 'no ATC Clearance' was the reason for the delay. But, actually, there was no first officer to fly the plane."
A Jet Airways spokesperson confirmed that the two-hour delay faced by the May 13 flight was due to the non -availability of flight crew. "Flight 9W416 of May 13 was delayed as a result of operational reasons which are at times beyond our control. 
"Initially, there was a delay of the incoming flight due to inclement weather in Delhi. This operational delay caused flight and duty time limitations (FDTL) of the crew, which necessitated a change in the cockpit crew, leading to missing the flying slot as per ATC guidelines," Jet Airways said in a statement to PTI.
"Passengers with kids and old (people) got restless and there was lot of commotion in the aircraft. Passengers rushed to aerobridge and sought to deplane but no responsible person (from Jet Airways) was available. It was very irresponsible on the airline's part," Abdi stated in his complaint. 
"During this forced confinement of passengers not even (a glass of) water was provided by the airlines and after the take off, only light snacks were served. Though it was well past the dinner time observed by the airlines," Abdi added in his complaint.
Finally, at around 9 P.M., under pressure from the passengers, a first officer was arranged from an incoming flight and "we landed in Jaipur at around 1:30 A.M", he said. The airline, however, said that the passengers were served refreshment and every arrangement was made for their comfort. "Being a frequent flyer I am concerned about air safety and fair treatment and services to air passengers. 
Airlines seem to be concerned about fairs and deductions on cancellation charges only. There is no mechanism for on-the- spot redressal of a crisis like this," Abdi said.