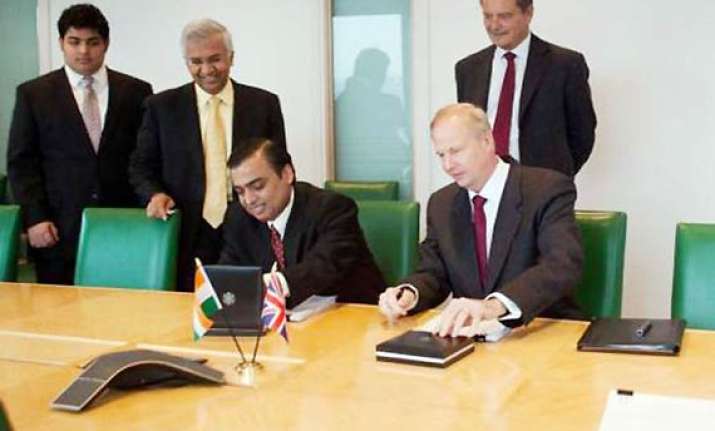 Mumbai, Nov 18: Reliance Industries (RIL) and British Petroleum (BP) today announced the incorporation of their 50:50 joint venture company, India Gas Solutions Pvt Ltd, which will focus on global sourcing, transporting and marketing of natural gas in India.

"Our vision is to see the RIL-BP joint venture company emerge as a major participant in meeting India's growing gas demand. The need for assured gas supplies to fuel this growth is crucial and the RIL-BP partnership is in a unique position to contribute significantly in this respect," BP India's Region President and Country Head Sashi Mukundan said in a statement here.

India Gas Solutions Pvt Ltd will also develop infrastructure to accelerate transportation and marketing of natural gas within the country. It will be funded by BP and RIL.

The company's board comprises six members with equal representation from BP and RIL.

Kris Sliger from BP will be appointed chairman and RIL's Bibhas Ganguly will be the vice-chairman. The executive team comprises Hiten Mehta (BP), Chief Executive Officer Suresh Manglani (RIL), Chief Financial Officer Amit Mehta (RIL), and Chief Operating Officer Brian Dodson (BP).

"Incorporating the joint venture company is a significant step in the BP-RIL relationship and further establishes the commitment of both the parties to the Indian market. Demand for gas has been growing at an exponential rate and we anticipate natural gas to emerge as the preferred choice of fuel," RIL Executive Director PMS Prasad. 

India Gas Solutions will commence operations with 30 employees seconded from BP and RIL, both in India and abroad.

The joint venture will assume the administration of the existing gas contracts to KGD6 customers, and will also pursue other opportunities, including LNG import, the company statement said.