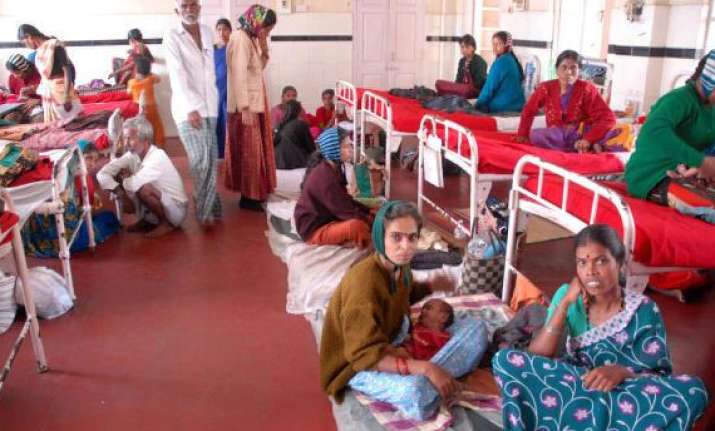 New Delhi: Aiming to ensure "Health for All," government today promised to take up on priority initiatives like providing free drugs and diagnostic services besides earmarking Rs 500 crore to set up four more AIIMS-like institutes and earmarked Rs 39,237.82 crore for the sector.
In his maiden budget speech, Finance Minister Arun Jaitley said the government has also decided to set up 15 model rural health research centres in states for better healthcare facilities in rural India.
Jaitley said Rs 500 crore has been allocated for a plan to set up four more AIIMS-like institutes in Andhra Pradesh, West Bengal, Vidarbha in Maharashtra and Poorvanchal in Uttar Pradesh.
He also proposed to add 12 government medical colleges, where dental facilities would also be provided. At present, 58 government medical colleges have been approved.
The allocation to the health sector was up by merely 5 per cent from Rs Rs 37,330 crore proposed in the last budget by the previous Congress-led UPA government in the last budget.
"In order to achieve universal access to early quality diagnosis and treatment to TB patients, two National Institutes of Ageing will be set up at AIIMS, New Delhi and Madras Medical College, Chennai. A national level research and referral Institute for higher dental studies would be set up in one of the existing dental institutions," Jaitley said.
Of the total allocation for the health sector for 2013-14, the Department of Health and Family Welfare got the major share of Rs 35,163 crore that includes Rs 30,645 Plan outlay.
This is up from Rs 33,278 crore proposed in the last budget that includes Rs 29,165 crore of Plan outlay.
The Department of Ayush got an outlay of Rs 1,272.15 crore (against Rs 1,259 crore in the last budget), the AIDS Control Rs 1,785 crore (same as last year), and the department of Health Research Rs 1,017 crore, against 1,008 crore in the last budget.
Government's flagship programme for providing universal access to equitable, affordable and quality health care – The National Health Mission has been earmarked a total of Rs 21,912 crore, up 16 per cent from Rs 18,880 crore proposed for it in the last budget.
For the first time, the Government will provide central assistance to strengthen the States' Drug Regulatory and Food Regulatory Systems by creating new drug testing laboratories and strengthening the 31 existing state laboratories, he said.
"In keeping with the Government's focus on improving affordable health care and to augment the transfer of technology for better health care facilities in rural India, 15 Model Rural Health Research shall be set up in the states, which shall take up research on local health issues concerning rural population," Jaitley said enumerating steps for the health sector in the budget.