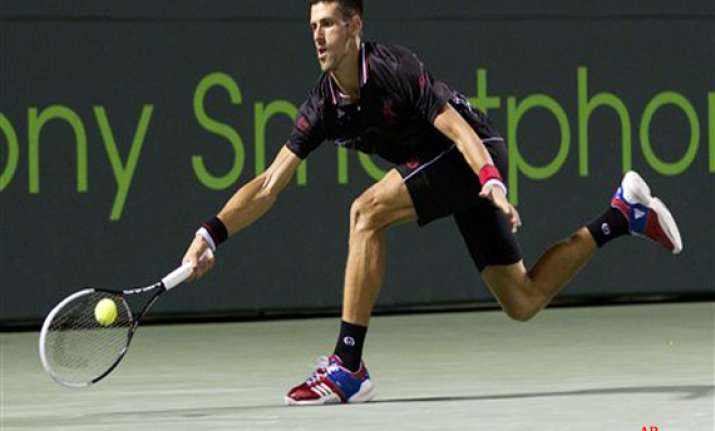 Key Biscayne, Florida ,Mar 31: Top-ranked Novak Djokovic advanced to his first final since winning the Australian Open by beating Juan Monaco 6-0, 7-6 (5) on Friday at the Sony Ericsson Open.
Djokovic's opponent Sunday will be 2009 champion Andy Murray, who advanced with a walkover when Rafael Nadal withdrew hours before their semifinal because of a left knee injury. Nadal said the injury has been getting worse, but he hopes for a quick recovery to avoid missing any of the upcoming clay-court season.
"In the tiebreak I stayed calm and focused and closed it out when I needed to," Djokovic said.
The final will be Djokovic's first since winning the Australian Open for his fifth Grand Slam title and third in a row.
Djokovic won a quick first set and a 96-minute second set against Monaco, an Argentine playing in just his second Masters 1000 semifinal. Djokovic was broken for the only time when he served for the match, but in the tiebreaker he took the lead for good by winning a 26-stroke rally to go up 4-3.
Grinding tiebreaker rallies twice left Monaco with his hands on his knees afterward trying to recover. On match point, he pushed a forehand into the net.
The drama at the finish seemed unlikely when Djokovic dominated at the start. The first set took only 27 minutes, and Monaco won just seven points, two on double-faults by Djokovic.
Thanks to South Florida's large Argentine population, Monaco had plenty of support from the capacity crowd. Fans sang in Spanish, encouraging a comeback, and he obliged.
"All the credit to him for staying in the match, fighting and coming back," Djokovic said. "It was the semifinals. It was never going to be easy."
Monaco's first serve kept him in the second set, and Djokovic wobbled briefly. Serving at 5-4, he fell behind love-40, erased all three break points but then double-faulted. Monaco finally broke when Djokovic pushed a forehand into the net for 5-5.
"I couldn't close it out," Djokovic said. "But OK. I'm in the final, and that's a positive fact. I'll try in the final not to have that letdown."
Djokovic's experience in big matches showed at the finish, and he improved to 89-8 since the beginning of last year. Monaco fell to 0-5 against the Serb, winning just one of 13 sets.
"The first set was incredible," Monaco said. "He played like the real No. 1. It was tough for me. Then it was big fight in the second set, but he really deserved to win."
Djokovic seeks his third Key Biscayne title and second in a row. He has a 7-5 record against Murray and won when they met in the Australian Open semifinals in January.
"We know each other really well," Djokovic said. "It's going to be a good match."