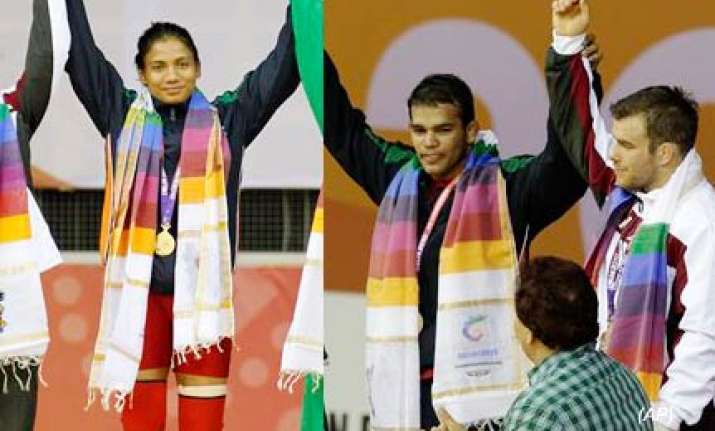 Lucknow, Oct 15: Eleven athletes from Uttar Pradesh who won medals in the recently concluded Commonwealth Games in Delhi will get a bonanza from the state government.
Chief Minister Mayawati announced here today that Rs 15 lakh reward would be given to athletes from UP getting gold medal in solo competition, Rs 10 lakh to silver medal winners and Rs 8 lakhs to bronze medal winners.
Players who won gold medal in team competition will get Rs 10 lakh each, winners of silver will get Rs 8 lakh each and winners of bronze will get Rs 6 lakh each.
Following is the list of medal winners from UP:
Omkar (Azamgarh), Km. Anuraj Singh (Aligarh) and Imran Hassan Khan (Bareilly) got gold medals in shooting, Km. Alka Tomar (Meerut) and. Narsingh Yadav (Varanasi)got  gold medals in wrestling,  Ritul Chatterjee (Varanasi) got silver medal in archery,  Sonia Chanu working in U.P. Police (Home State Manipur)got  silver medal in weigh lifting, Anuj Chaudhary (Muzaffarnagar) got silver medal in wrestling,  Tushar Khandkar (Jhansi) and Danish Murtuza (Allahabad)got  silver medal in Hockey and  Ashish (Allahabad) got  silver and bronze medals in gymnastics.