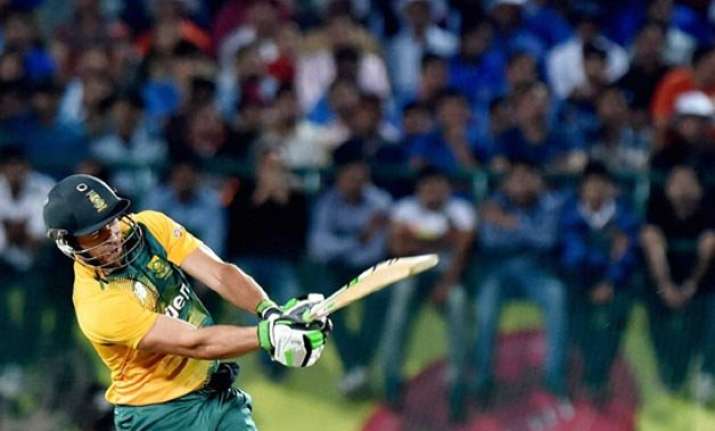 Dharmasala: Rohit Sharma's 66-ball 106 went in vain, as Jean-Paul Duminy and A.B. de Villiers played a blinder of an innings to steer South Africa to a comfortable seven-wicket win over India in the first Twenty20 International (T20I) at the Himachal Pradesh Cricket Association (HPCA) Stadium here on Friday.
Duminy (68 of 34 balls, 1x4 7x6) and Farhaan Behardien (32 of 23 balls, 4x4 1x6) remained unbeaten as South Africa chased down India's challenging score of 199/5 in 20 overs to post 200/3 in 19.4 overs.
While de Villiers (51 of 32 balls) started the proceedings for the visitors in the run chase, Duminy and Behardien stitched an unbeaten 105-run stand for the fourth wicket to script a memorable victory for the visitors and thus help South Africa go 1-0 up in three-match series.
South Africa got off to a flying start scoring over ten an over in the first seven overs. But batsman Hashim Amla (36) who was looking set ran himself out in the eighth over, handing India their breakthrough.
But the wicket didn't bother his partner, de Villiers who went on scoring freely and helping his side maintain a steady run rate. But just after completing his half-century, he tried to step put off the bowling off Ravichandran Ashwin but the clever spinner bowled a lot slower and the ball brushed his back thigh and deflected on to the stumps.
Skipper Faf du Plessis (4) didn't trouble the scoring too much as he went back cheaply putting the visitors in a bit of trouble in a chase of 200. The team was 95/3 in 11th over then.
But Duminy and Behardien played sensibly, using all their experience to build on a match winning partnership to take the visitors home.
For India, Ravichandran Ashwin (1/26) was the pick of the bowlers.
Earlier after being sent into bat, India received a setback when opener Shikhar Dhawan (3) was run out while trying to steal a single after a misfield. His valiant dive wasn't enough to save his wicket as India were reduced to 22/1 in 3.1 overs.
The other opener Sharma (106, 12x4, 5x6) though tried to shake off the disappointment and hit some lusty blows to rev up India's run rate, which reached 50 in 6.4 overs.
Kohli (43 of 27 balls, 1x4, 3x6) also joined the act, hitting a consecutive six and a four at the start of the eighth over off pacer Chris Morris.
Sharma reached the 50-run mark in the ninth over, guiding a wide delivery off pacer Kyle Abbott to the boundary.
The Sharma-Kohli 138-run second wicket partnership enabled India to launch a no-holds-barred charge in the death overs.
Sharma began the charge scoring boundaries almost at will. The 28-year-old right-hander brought up his century with a majestic six over long on off pacer Merchant de Lange in the 15th over.
Kohli also achieved a personal milestone in the process, becoming the first Indian to score 1,000 runs in T20 internationals.
Though first Kohli and then Sharma departed in the same over, dismissed by Abbott, India were firmly placed to post a strong total. Abbot was South Africa's most successful bowler picking up two wickets for 29 runs.
Abbott (2/29) was the pick of visitor's bowlers.
Here are the major highlights of the match:
*South Africa beat India by 7 wickets, lead three-match series 2-1; Duminy (68*), Behardien (32*)
*South Africa need 10 off the last over. Duminy (59), Behardien (31)
*Duminy completes his half-century off 28 balls which is turning out to be a match winning innings for South Africa
*Duminy key as South Africa (176/3) need another 24 runs to win off the last 12 balls
*Umpire turns down lbw appeal against Duminy. Bhuvneshwar Kumar not happy. South Africa 164/3 in 17 overs
*Duminy clears Axar Patel for three back-to-back sixes. South Africa 156/3 in 16 overs
*South Africa (134/3) in 15 overs need another 66 runs to win off 30 balls. Duminy (15), Behardien (25)
*Costly over by Mohit Sharma. 11 runs from his 3rd. South Africa 126/3 in 14 overs. Duminy (14), Behardien (18)
*Duminy smashes Axar Patel for a SIX followed by a boundary. South Africa 115/3 after 13 overs. Need 85 off 42 balls
*South Africa 104/3 after 12 overs. Duminy 5, Behardien 5. Need 96 off 48 balls
*Loud appeal by Dhoni for stumping. Umpires go upstairs and Duminy is safe. South Africa 99/3 in 11.2 overs
*Sreenath Aravind gets his maiden T20 international wicket. Skipper Faf du Plessis clean bowled for 4. South Africa 95/3  in 10.3 overs
*Ashwin strikes as de Villiers is clean bowled for 51. South Africa 93/2 in 10 overs, chasing 200 to win
*deVilliers plays it to the mid-wicket for FOUR for a magnificent half century. South Africa 93/1
*There's no stopping for AB de Villiers as he gets close to his 6th T20I half-century. de Villiers (47), du Plesses (2)
*South Africa 80/1 in 10 overs
*India gets the breakthrough as Hashim Amla is run out for 36 off 24 balls. South Africa 77/1 in 7.4 overs
*Dhoni drops Amla in a close catch. South Africa 72/0 in 7 overs
*It's raining boundaries at Dharamsala! South Africa 67/0 in 6 overs. Amla (31), de Villiers (35)
*Amla (25), de Villiers (34) in good form as South Africa cruises to 60/0 in 5 overs. Need another 140 runs to win
*12 from the over off Mohit Sharma. South Africa 46/0 after 4 overs
*de Villiers and Amla are playing the shots all over the ground. South Africa 34/0 in 3 overs
*AB de Villiers smashes debutant Sreenath Aravind for a SIX. South Africa 24/0 after 2 overs
*Hashim Amla starts off with two boundaries in 1st over. South Africa 10/0 in 1 over
*Runs on the board straight away for South Africa. Hashim Amla gets off the mark with a boundary towards the fine leg side off Bhuvneshwar Kumar
*Dhoni finishes off in style as India cruises to 199/5 in 20 overs vs South Africa. Dhoni (20), Axar (2)
*Wickets are tumbling towards the end as #India score 189/5 with one more over to go
*Another wicket! Trying to get a quick single, Ambati Rayudu is run out for a duck. India 184/5 in 18.4 overs
*Raina goes high over the square leg for another SIX. India 182/3 after 18 overs. Raina (13), Dhoni (6)
*Raina pulls Kagiso Rabada over the fine leg for six. India 173/3 in 17 overs. Raina (6), Dhoni (1)
*Abbott strikes two in an over as Rohit Sharma dismissed for 106 off 66 balls. India 162/3 in 16 overs
*India lose 2nd wicket as Virat Kohli is out for 43. Score 160/2 in 15.3 overs
*Rohit Sharma slams maiden ODI ton off 62 balls. India 158/1 after 15 overs
*Rohit Sharma enters the 90s with two back to back boundaries off Chris Morris. India 140/1 after 14 overs. Rohit (91), Kohli (39)
*Rohit Sharma into the 80s with a brilliant six over mid-wicket off Kagiso Rabada. India 129/1 after 13 overs. Rohit (82), Kohli (37)
*Virat Kohli completes 1000 T20 international runs, the only Indian to do so
*100 up for India as Kohli smashes Imran Tahir for three sixes. Score 115/1 after 12 overs. Kohli (36), Rohit (68)
*8 runs off Duminy's over as India are 94/1 after 11 overs. Rohit (61), Kohli (23)
*Rohit and Kohli's quick 50-run partnership takes India to 86/1 at the end of 10 overs
*Rohit Sharma moves onto 46 as he slaps the ball through the cover point. India 75/1 after 9 overs
*Virat Kohli moves to 19 off 12 balls with a boundary and a six. India 65/1 after 8 overs
*Rohit Sharma smashes Chris Morris for boundary and a six in an over. India 46/1 after 6 overs. Rohit (35), Kohli (5)
*Clever batting by Rohit Sharma as he hits de Lange for another boundary. India 32/1 after 5 overs
* India lose 1st wicket as Shikhar Dhawan is run out for 3 runs. Score: 22/1 after 3.1 overs
* Rohit hits de Lange for two boundaries in an over. India 21/0 after 3 overs
* Rohit Sharma cracks a brilliant boundary across the covers as India are 11/0 at the end of 2 overs
* Rohit Sharma slashes the ball to deep backward point for FOUR. India 4/0 after 1 over
* South Africa win toss, ask India to bat first
India's Sreenath Aravind will make his debut in International Cricket with today's match.
Amit Mishra, Harbhajan Singh, Stuart Binny and Ajinkya Rahane did not get any place in the playing eleven of captain MS Dhoni.
Playing eleven:
India: MS Dhoni (Captain, Wicketkeeper), S Dhawan, RG Sharma, V Kohli, SK Raina, AT Rayudu, AK Patel, R Ashwin, B Kumar, MM Sharma, S Aravind
South Africa: F du Plessis (Captain) AB de Villiers (Wicketkeeper), HM Amla, , JP Duminy, DA Miller, F Behardien, CH Morris, K Rabada, KJ Abbott, M de Lange, Imran Tahir