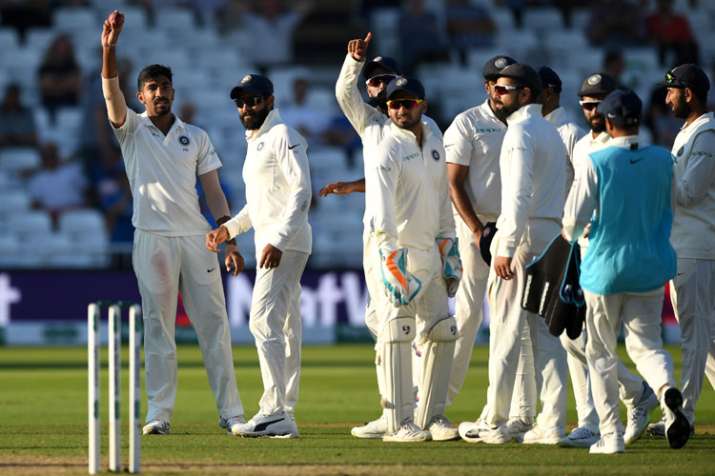 Highlights, India vs England, 3rd Test, Day 5: India's cornered cricketers produced a fantastic collective performance to outclass England by 203 runs in the third Test to keep the five-match series alive, here today. Needing only a wicket on the final morning, India completed the formalities in only 2.5 overs as England were all out for 317, well short of the mammoth victory target of 521 runs. India now trail England 1-2 but more importantly got some breathing space after a heart-breaking defeat in Edgbaston, followed by the debacle at the Lord's. The final wicket was taken by Ravichandran Ashwin, who dismissed James Anderson (11), caught by Ajinkya Rahane. The heartening aspect was the kind of domination shown by the Indian team in what can easily be termed as a complete performance under Virat Kohli's captaincy outside the sub-continent. While openers KL Rahul and Shikhar Dhawan were solid if not spectacular, the new ball bowlers Ishant Sharma (2/32 and 2/70) and Mohammed Shami (1/56 and 1/78) were relentless in their attack. Vice-captain Ajinkya Rahane (81 in first innings) and Test specialist Cheteshwar Pujara (72 in second innings) also put their hands up when it mattered the most. Hardik Pandya (five-for and half-century) produced an all-round performance with wickets and runs to justify his place and make a statement to the skeptics.
(FULL SCORECARD | DAY 5 HIGHLIGHTS)
HIGHLIGHTS, INDIA VS ENGLAND, 3RD TEST, DAY 5 IN NOTTINGHAM
India win the 3rd Test by 203 runs.#ENGvIND pic.twitter.com/YkNJjsGRlQ

— BCCI (@BCCI) August 22, 2018
15.55 IST: Right then, it took India 17 balls to pick the last wicket. The Indian team is celebrating. A crushing defeat for England. The players in the middle are shaking hands. Job well done by the touring team. India (329, 352/7d) beat England (161, 317) by 203 runs in Nottingham.
15.41 IST: OUT! Ravichandran Ashwin to James Anderson, OUT c Ajinkya Rahane b Ravichandran Ashwin. In the air... and taken! Ashwin gets his name in the wickets column. He bowls this outside off, once again it is the leg-spinner. Anderson does not pick it as he goes for the cut. The ball comes back in and bounces. James seeing the bounce tries to fend it away but gets hit on the glove. The ball lobs towards Rahane at first slip, he backtracks and takes a dolly. The players appeal and the umpire raises his finger. Smiles all around in the Indian camp as THEY WIN BY 203 RUNS AND KEEP THE SERIES ALIVE! 
15.39 IST: Ravichandran Ashwin is into the attack.
15.34 IST: Ashwin still seems unfit, though he is on the field. Mohammed Shami to bowl from the other end. ENG 313/9 in 103 overs.
15.28 IST: The players are taking the field now. We're all set to go. Pandya to Anderson
15.23 IST: Michael Atherton catches Jasprit Bumrah for a little interview. The Indian pacer says that the white ball doesn't do a lot but the red ball always helps. He was looking forward to that and execute his skills. Adds he wants to bowl fast and credits his fitness for that. Feels that the culture is changing back home and many want to become fast bowlers. Says that he has always admired the likes of Brett Lee, Mitchell Johnson, Wasim Akram and Zaheer Khan. Further mentions that they were a bit low on confidence heading into this match but they were focused and wanted to take it a day at a time.
15.20 IST: 
Here's to @SarnobatRahi for grabbing a GOLD in women's 25m pistol #Shooting event with games record.
Our sharp shooter put up a great show to secure her 2nd Asian Games medal.
Many congratulations!
It's amazing to see our shooters making making🇮🇳so proud. #AsianGames2018🥇 pic.twitter.com/zyOfWPWX4G

— SAIMedia (@Media_SAI) August 22, 2018
15.15 IST: In the meantime, did you hear about India's Rahi Sarnobat's Gold at the Asian Games? Here you can read all about it. 
15.10 IST: 
We come back today with India needing one more wicket for victory.

How many can Jimmy score?

Scorecard/Videos: https://t.co/TgkiLWqjsK#ENGvIND pic.twitter.com/eXVUVUwwV6

— England Cricket (@englandcricket) August 22, 2018
15.00 IST: One wicket is all that India need today to keep the series alive. Yes, cricket is a game of uncertainties but one would feel an Indian win is imminent today. The England fans will have started their rain dance as that is the only thing which can save them. It is bright and sunny for now and the away side will be eager to get out there. So, I will ask you once again, how many balls or how many overs will India take to wrap this up? Stay tuned to find out.
14.30 IST: Hello and welcome to our Live Coverage of the fifth and final day of the third Test match between India and England in Nottingham. Stay tuned as we bring you all the latest updates.
Brief Day 4 Report:
India are one wicket away from a comprehensive victory as England were 311/9 at stumps on the fourth day while chasing a mammoth 521 in the third Test match in Nottingham on Tuesday.
Adil Rashid (30) and James Anderson (8) were at the crease when umpires dislodged the bails for the day.
India Jasprit Bumrah broke the backbone of the English batting line-up, scalping five wickets in his 29 overs, while Ishant Sharma chipped in with two wickets.
The day started with India reducing the hosts to 84/4 at lunch on the penultimate day. Assisted by overcast conditions suited to swing and seam bowling, the Indian pace trio of Ishant Sharma (2/24), Mohammed Shami (1/28) and Jasprit Bumrah (1/26) got rid of the English top order. (Read Full Report Here)