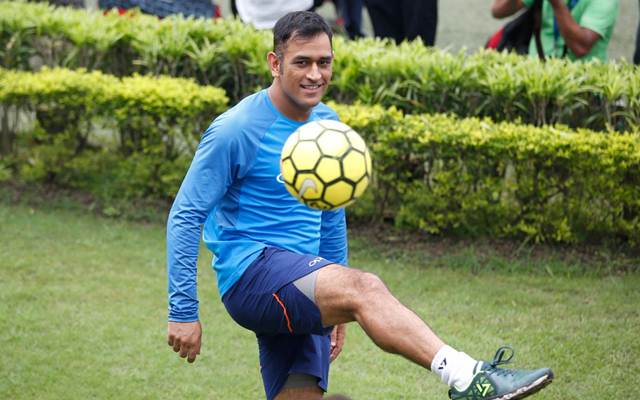 With the World Cup craze virally spreading across the globe, Indian veteran Yuvraj Singh talks about how the Team India cricketers are when it comes to switching sports. The Indian cricketers are often seen playing football during their practice sessions before matches as a way to keep fit and the 36-year old has adjudged the best of them all and for the swashbuckler, it's none other than MS Dhoni who top's Yuvraj's list as a good footballer.
The witty Yuvraj provided his expert comments on his teammates' football skills as he talks about how skipper Kohli, Rohit Sharma, Hardik Pandya and Jasprit Bumrah are on the field with just the ball. 
Talking about the skipper first, Yuvraj said, "Virat is really fit and can run the length and breadth of the pitch with high speed, but unfortunately, he can never score goals. He has a lot of skills but sadly lacks the finish. I think he needs to work on that."
The 36-year old had some honest advice for Jasprit Bumrah and Hardik Pandya -- football is not a sport for them.
"Jasprit Bumrah shouldn't play football. Hardik Pandya is a really bad footballer. He too needs to improve his football skills", he says jokingly.
Carrying on in a lighter vein, Yuvraj adds: "Rohit Sharma is a horrible soccer player. He just passes the ball and then doesn't move. He is always standing in an off-side position. Zaheer Khan is also like Rohit, barely wants to run on the football ground. Ashish Nehra, I would advise shouldn't play football because everytime he plays, he gets injured." 
So who is a good footballer according to Yuvraj? "Mahi (Dhoni) is an excellent soccer player", he said.
Coming on to whom Yuvraj is supporting in the 2018 FIFA World Cup in Russia, it is France.
For Yuvraj, it is his favourite club Manchester United that has forced him to switch loyalties from his perennial favourite Brazil to supporting France in the ongoing FIFA World Cup and the reason is his favourite player, Paul Pogba, who plays for the 'Red Devils'.
"Past few World Cups, I supported Brazil, but this year I am supporting France because it has Paul Pogba, who is a Manchester United player", said Yuvraj, according to PTI.
Yuvraj is a self-confessed football buff, who has often dropped in at the Old Trafford to enjoy United's Premier League home games.
(With PTI Inputs)