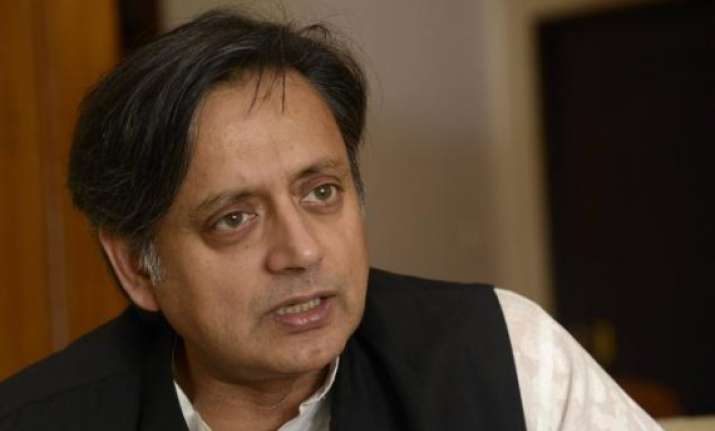 New Delhi: Congress leader Shashi Tharoor today said he accepts the party's decision to "relieve" him of responsibilities as a spokesman but regretted not being given a "opportunity to respond" to allegations against him leveled by the Kerala unit of the party.
However, Tharoor made it clear that he is treating the matter as closed.
"I have seen the press release issued by the AICC and, as a loyal worker of the Congress Party, accept the decision of the party President to relieve me of my responsibilities as a Spokesman," embattled Tharoor said in a statement.  Earlier in the day, Congress removed Tharoor as party spokesperson for his praise of Prime Minister Narendra Modi which had not gone down well with the Kerala unit of the party.
In his statement, Tharoor said while he has not yet seen the KPCC complaint referred to "and while I would have welcomed an opportunity to respond to it and draw the attention of the AICC leadership to the full range of my statements and writings on contemporary political issues, I am now treating this matter as closed and have no further comment to make".
The Congress MP from Kerala said he was in politics to serve the people of India and his constituency through his service to Congress party.
"This I have always done with utmost sincerity and commitment and I will continue to do so", he said.  "Whatever responsibilities the party has entrusted to me I have fulfilled without reservation and I fully recognise it is the prerogative of the party to alter these responsibilities," he said.
Kerala Pradesh Congress Committee had prepared a report against Tharoor, which was referred to AICC's disciplinary action committee a few days ago.
The report of the Kerala unit had held that Tharoor's adulatory statements about Modi had hurt Congress workers in Kerala, who had worked sincerely and tirelessly for his victory from Thiruvananthapuram Lok Sabha seat.