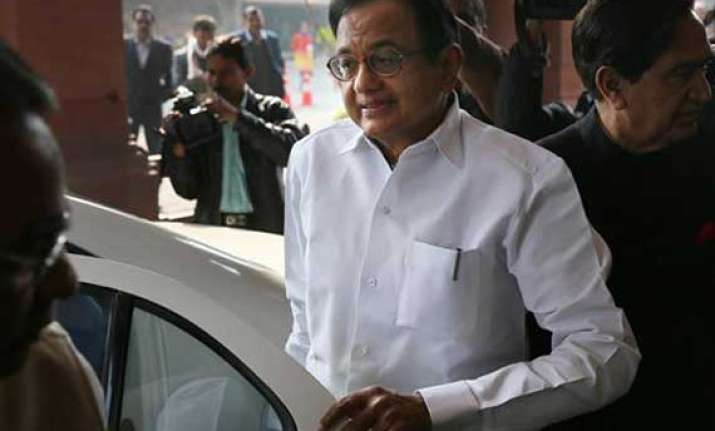 New Delhi: "My mother and Harvard taught me the value of hard work," said Finance Minister P Chidambaram today to hit back at Narendra Modi, who escalated the wordy duel asking whether he has been 'hard working' or 'hardly working' during his tenure.
Chidambaram used the Interim Budget of the UPA government to take a swipe at the BJP Prime Ministerial candidate, who had taken a dig at him a few days back by saying that high growth rate in Gujarat was because of his hard work and not education in Harvard University.
Chidambaram while presenting the Budget in the Lok Sabha highlighted that the country had seen high growth rate during the UPA rule of 10 years - 8.4 per cent during UPA-I and 6.6 per cent during UPA-II.
"All this is the result of hard work. I may add, among other mentors, my mother and Harvard taught me the value of hard work," he said in a forceful assertion.
Though he did not name Modi, Chidambaram was clearly responding to the jibe hurled at him by the Gujarat Chief Minister.
Shortly after the Budget was presented, Modi took another swipe with a tweet, "'Hard working' Finance Minister also joins other illustrious UPA ministers who are seeking refuge in history to judge their 'performance.'"
"It is upto the people to decide whether the Economist PM & FM have been 'hard working' or 'hardly working' in their tenure," he posted in another tweet.
The Gujarat Chief Minister utilised the announcement on 'One Rank, One Pension' for the Armed Forces to take another 'hard work' jibe.
"I welcome the decision on 'One Rank, One Pension' for our servicemen. Belated wisdom finally dawns on our 'hard working' UPA ministers," he said.
Taunting the Finance Minister repeatedly at a rally in Chennai last week, Modi had said that India under Chidambaram and noted economist Prime Minister Manmohan Singh has registered high unemployment, fiscal debt and low growth.
"Going to Harvard means nothing. What matters is hard work. A man who has just studied in an ordinary school, sold tea and has not even seen the doors of Harvard has shown what it takes to handle economy.
"Gujarat has shown an average growth of 10.1 percent for the last ten years while the national average has been 7.6 under UPA and it has fallen to 4.5 in the last two years," Modi had said.
The Gujarat Chief Minister had made the comments in response to Chidambaram's dig that Modi's knowledge of economy can be written on the back of a postage stamp.