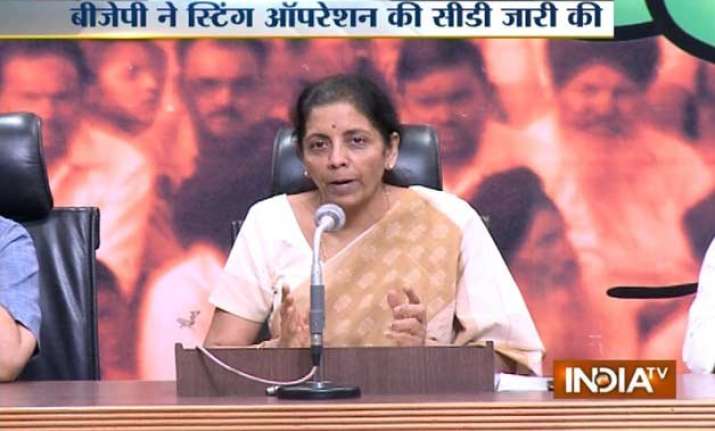 New Delhi: Under fire from opposition over the alleged corruption of three of its leaders, the Bhartiya Janata Party (BJP) today hit out with a sting that it claims establishes a scam in Congress ruled Uttarakhand, where Harish Rawat is the Chief Minister.
BJP demanded resignation of Rawat over the alleged scam. Union minister Nirmala Sitharaman said, "The Uttarakhand Chief Minister and his Personal Secretary (PS) were involved in a liquor scam and loot during Uttarakhand floods,"
She referred to the floods which lashed the hill state in 2013, killing close to 6,000 people and leaving hundreds of thousands of pilgrims to the region's famous temples stranded.
"We have a video proof which shows involvement of Uttarakhand's CM & his powerful close confidante in the scam," Minister of State for Commerce and Industry Sitharaman added.
The sting purportedly shows Chief Minister's personal secretary negotiating bribes for changes to the state's policy on the sale of alcohol.
Rawat, however, refuted charges of corruption and said the allegations are baseless.
He said, "The cabinet sets the liquor policy and we have not given any license to private players. There is no change in liquor license policy. When we have not changed the policy, how can they (BJP) accuse us?"
In both houses of parliament, the government led by the BJP is facing a united opposition, which is demanding the resignation of Foreign Minister Sushma Swaraj, Rajasthan Chief Minister Vasundhra Raje and Madhya Pradseh Chief Minister Shivraj Singh Chouhan.
Swaraj and Raj extended favours to tainted cricket administrator and former IPL chief Lalit Modi while Chouhan's government is engulfed by the Vyapam or job recruitment scam.
Taking a strong stand, the government has ruled out resignation of any of its minister. The stand-off has caused Parliament to be adjourned early for the first two days of its 21-day Monsoon Session which started yesterday.
Minister Harish Rawat of "making money" by tweaking liquor policy to benefit private distributors and demanded his sacking.
However, the Chief Minister rejected the allegations as "baseless" and far from truth and said he has ordered a forensic examination of the video tape of a sting operation that formed the basis for BJP's charges.  
The BJP, which is under attack over Lalitgate and Vyapam scams allegedly involving its top leaders, also sought to drag top Congress leaders Sonia and Rahul Gandhi, accusing all party chief ministers from Kerala to Assam, Himachal Pradesh and Uttarakhand of having become "merchants of loot" and giving commission to the the Gandhis.
At a press conference here, Union Minister Nirmala Sitharaman released a CD of the sting operation in which Rawat's personal secretary Mohammad Shahid is purportedly bargaining with middlemen and private liquor distributors about the commission to be given to him for allowing them instead of government undertakings to distribute liquor in Dehradun.
The CD does not feature Rawat, but a person whom the Minister claimed was Shahid talking to alleged dealers.  Sitharaman said Shahid has long been the "handpicked" associate of Rawat and had served the Congress leader in the central government earlier too. Shahid is also the Excise Secretary in the state.
"Instead of focusing on providing relief to Uttarakhand for which he was sent replacing Vijay Bahuguna, Rawat is focusing on making money by tweaking the liquor policy. We demand that the Congress party remove him instantly. He must resign," she told reporters.
BJP secretary Shrikant Sharma said Congress "looted" the country when it ruled the Centre and now its chief ministers were doing it in states.
"They have been given a license to loot. BJP wants to know how much commission from this loot is given to Sonia and Rahul Gandhi. The loot by these chief ministers has grown under their patronage," she said.
Hitting back at the Congress for demanding discussion in Parliament over allegations involving Madhya Pradesh and Rajasthan Chief Ministers, the Minister said if all parties decide to break parliamentary rules to discuss issues, then debate must be held in Parliament on graft charges against Rawat, Himachal chief minister Virbhadra Singh and their Assam and Kerala counterparts.
(With Inputs from PTI)