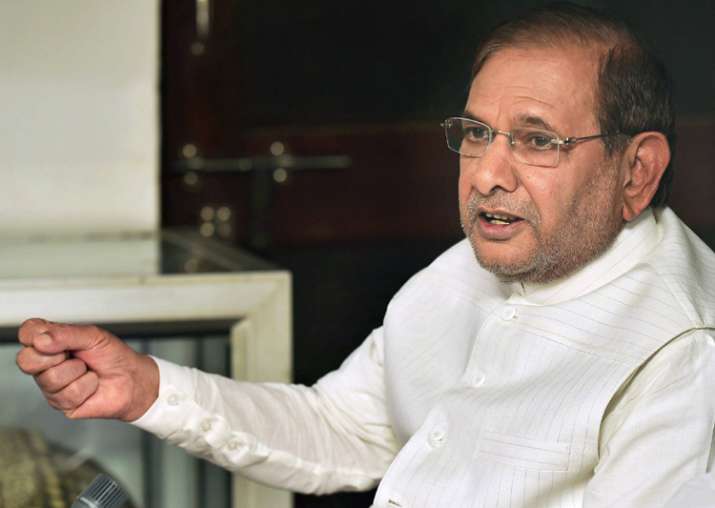 A day after the Election Commission recognised Bihar Chief Minister Nitish Kumar-led faction as the real Janata Dal (United), rebel leader Sharad Yadav today reiterated his claim that the faction led by him is the real JD(U) and added that he will prove it soon. Yadav also said that he will decide the future course of action at a convention of JD(U) on October 8 here.
Asked about the Election Commission rejecting his faction's claim over the party symbol, Yadav said that it has not been rejected and that his lawyers are looking into the matter and will respond at the appropriate time.
The leader said that his lawyers will respond to the Election Commission which did not take cognisance of his faction's application claiming to be the 'real JD(U)'.
"We are the real JD-U and we will prove it in the coming days. You will be surprised to see the way we are going to expand it. We are going to hold our national convention in Delhi on October 8 where we will decide our future course of action," he said.
Yadav further acknowledged that he had a got a notice from the Rajya Sabha Secretariat regarding his membership of the Upper House. The Rajya Sabha went on to claim that he never violated the principles and ethics of the party's constitution and it was the other group led by Bihar Chief Minister Nitish Kumar which breached the Mahagathbandhan or Grand Alliance.
He accused the rival faction of shattering the faith and trust of 11 crore people in Bihar who voted for the Grand Alliance. Yadav said that he was being targeted on the pretext that he attended a rally at Patna on August 27. 
Yadav accused that Nitish Kumar-led JD-U faction of indulging in anti-party activities by breaking from the Mahagathbandhan. 
The JD(U) had in July-end split into two factions, one led by Nitish Kumar and the other by Sharad Yadav, after the Bihar Chief Minister dumped the Grand Alliance and embraced the Bharatiya Janata Party (BJP) to form a new government. The JD(U) had on August 12 removed Sharad Yadav as the party's leader in the Rajya Sabha.
According to JD(U) leaders, 70 MLAs, two Lok Sabha members and seven Rajya Sabha members are with the Nitish Kumar-led Janata Dal-United.
On September 8, a JD(U) delegation led by party MP RCP Singh approached the poll panel and staked claim on the party symbol, saying Sharad Yadav had no claim on the party. Last month, the Sharad Yadav faction staked its claim on the party.