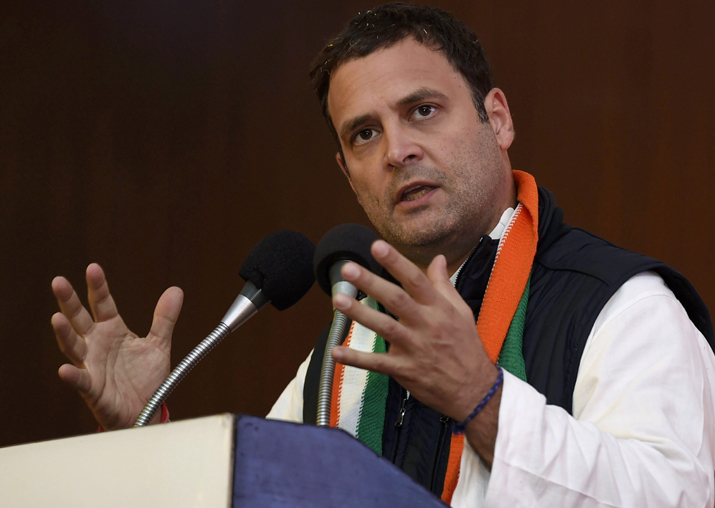 Congress president-elect Rahul Gandhi today made a strong pitch for the empowerment of women by passing a bill in Parliament providing a 33-per cent reservation to them.
Addressing a day-long workshop organised by the Congress' women's wing here, Rahul told the Centre that his party would not leave it with any choice in the matter. 
Stressing on the importance of having women representation in the party, Rahul -- who is set to replace Sonia Gandhi at the helm of the party, said that "it is unfortunately we do not have a woman president anymore, so we will have to compensate". 
"We will work on having women CMs in states," he opined.
"You (government) will have to give the women reservation. The Congress party will not leave you with any choice," he said. 
In a direct attack on RSS, Rahul  said that the organisation does not allow female participation in principle. 
"See any photo of Gandhiji (Mahatma Gandhi), you will always see 3-4 women. On the other hand, women cannot even enter the RSS due to their ideology," he said.
Hinting at a forthcoming announcement, he said: "Maybe you are going to get a surprise in Gujarat. In 3-4 months, the merger, talks and discussion of Congress Unit with people of Gujarat was powerful."
The Congress has been pushing for the passage of the Women's Reservation Bill, which has been languishing in the Lok Sabha. The bill envisages a 33-per cent reservation to women in the Lok Sabha and all the state legislative assemblies.
Rahul's mother and Congress president Sonia Gandhi had written to Prime Minister Narendra Modi in September, reminding him that the bill had already been passed by the Rajya Sabha on March 9, 2010, when the Congress-led United Progressive Alliance (UPA) was in power.