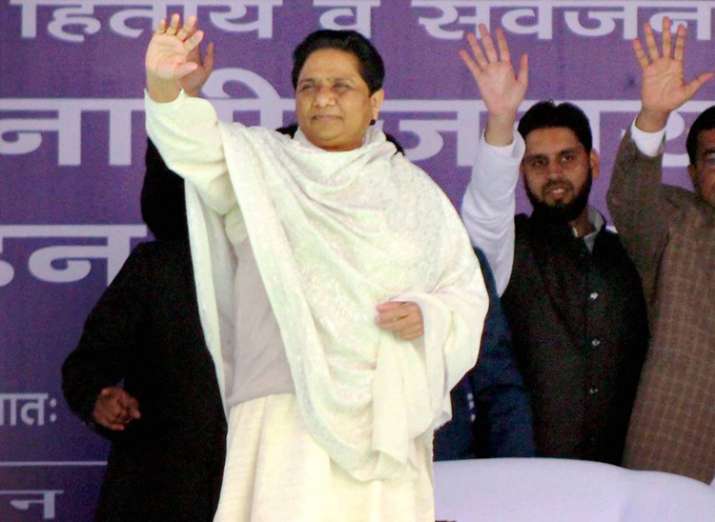 In an attempt to consolidate Muslim votes in her favour, Bahujan Samaj Party (BSP) supremo Mayawati today warned the community that any split in their votes would benefit the Bhartiya Janata Party (BJP) in upcoming Assembly elections in Uttar Pradesh. 
Addressing a rally here, she said that if elected to power, BSP would not let communal riots erupt in the state.  
Seeking support from Muslims, Mayawati said Centre's stand on issues like triple talaq, minority status of Aligarh Muslim University (AMU) and Jamia Millia Islamia (JMI) were wrong and she would support the community on these sensitive matters.  
"The minority status of Jamia and AMU is being snatched away and attempts are also being made to interfere in Muslim Personal Law, triple talaq and Uniform Civil Code. This is worrying and our party does not support this," Mayawati said.  
"People are being tortured in the name of love jihad and cow slaughter. Muslims are being looked at with suspicion in the name of terrorism which causes a sense of insecurity in the community," she added.  
She alleged that the BJP government at the Centre was implementing the agenda of RSS and said that its claims of bringing back the rule of law in Uttar Pradesh were eyewash.  
"Whenever the BJP has come to power (in the state), there is similar anarchy," she said while accusing the BJP of trying to end reservation and also harbouring ill-will towards the Muslims. 
Taking on Prime Minister Narendra Modi, she accused him of not fulfilling promises made during the 2014 Lok Sabha polls. 
"Nothing has been done for the poor and this (central) government does everything for the rich and the industrialists," she claimed.
Asking Muslims not to vote for the Samajwadi Party, Mayawati said it would only benefit the BJP.  
"The way Mulayam insulted his brother (Shivpal Yadav) for his son (Akhilesh Yadav), there are reports that Shivpal camp will try to defeat Akhilesh camp. Under these situations, if minorities vote for SP, it would only benefit BJP," former Uttar Pradesh Chief Minister said.  
She slammed the state government and said law and order was at its worst under Chief Minister Akhilesh Yadav and promised to bring back normalcy if her party was voted back to power. 
The first phase of voting in UP will begin on February 11 when 73 seats of Western part of the state will go to polls. The region has large number of Muslims. 
Both Samajwadi Party and BSP are trying to consolidate Muslim votes in their favor.