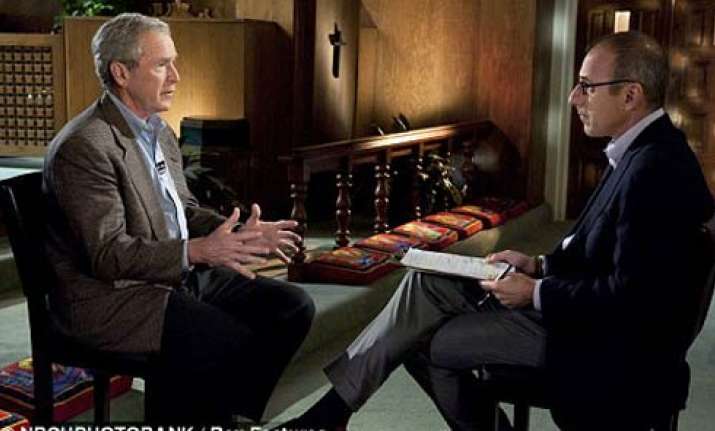 Former U.S. president George W. Bush has revealed he once got so drunk he questioned a woman about her sex life - in front of his wife and parents. Bush, who said he quit drinking in 1986, said in an interview with The Today Show he asked his parents' friend the inappropriate questions during a dinner, reports Daily Mail, London.
His outburst was greeted with total silence and 'serious daggers' from the guests.
'I'm drunk at the dinner table at mother and dad's house in Maine,' he told host Matt Lauer in his first TV interview since leaving the White House in 2009. 'And my brothers and sister are there, my wife Laura's there. And I'm sitting next to a beautiful woman, friend of mother and dad's. And I said to her out loud "what is sex like after 50?".'
The woman - who was not named - saw the funny side eventually, he said.
When the former Texas governor turned 50, she sent him a note asking: 'Well, George, how is it [the sex]?'
Bush, 64, said he had a 'love affair' with alcohol - but never thought about having a drink while he was in the White House.
'Right after I quit drinking I was thinking about drinking,' he said. 'But by the time I got to the White House, I hadn't had a drink in a long time. I've never had a drink of alcohol since then. When I go to church, if there's a wine in the communion, I don't take the wine in the communion.'
He has previously said that he gave up drinking for the sake of his family.
In another interview with NBC, he said: 'Well - it became a love. And therefore began to complete for my love with my wife, and my daughters.For awhile I was a rootless guy, and drinking didn't compete with anything. I could easily have a beer or two, or a martini before dinner, bourbons, B&Bs. I was a drinker. Now I wasn't a knee-walkin' drunk. And I have concluded I was not chemically addicted, like some of my friends were, who required a 12-step program for some.'
Bush has spoken of giving up alcohol cold turkey the morning after his 40th birthday after getting 'drunk as a skunk' the night before.
He credits his wife Laura and the Reverend Billy Graham for helping him to stay sober.The interview will be aired in the U.S. on Monday.