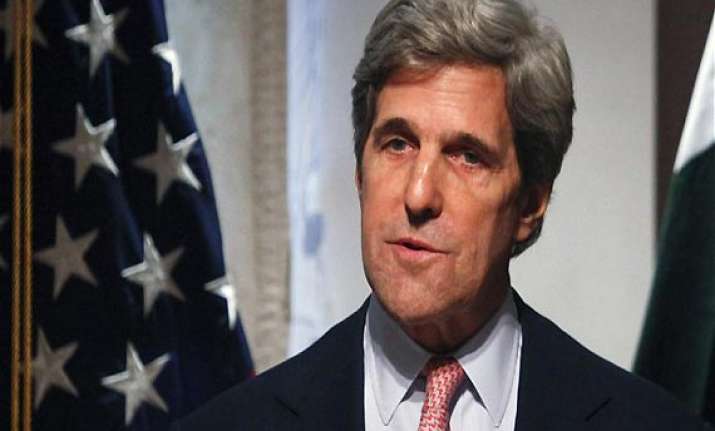 Washington: Asserting that US has a vested interest in China's growing prosperity, Secretary of State John Kerry today said the two countries have agreed to a "new model" of relationship based on "practical cooperation" and "constructive management" of differences.
"As (US) President (Barack) Obama has frequently stated, the US welcomes the continued peaceful rise of China. We have a vested interest in China's growing prosperity and partnership, not only in the Asia-Pacific region but also around the world," Kerry told reporters ahead of his bilateral meeting with the Chinese Foreign Minister Wang Yi.
"Obama has also made what I believe is a strategic and appropriate commitment to re-balance our interests and our investments in Asia. A stronger partnership with China is very much a part of that effort. The US is a Pacific nation. And we take our Pacific partnerships very seriously," Kerry said.
"And we will continue to build our enduring presence in that area, working with our partners to promote peace and prosperity," he said.
"China and the US have also agreed to a new model of relations. It is based on practical cooperation and constructive management of differences. We recognise the need to avoid falling into a trap of seeing one another as strategic rivals," he said.
"That recognition is now driving our partnership on issues from climate change to wildlife trafficking to military consultations and the promotion of balanced growth around the world," Kerry said.
"Importantly, part of our new relationship is a commitment to engage in frank discussions on sensitive issues, particularly where we disagree, where misunderstanding could lead to a miscalculation," Kerry said, adding that the two leaders plan to discuss a series of issues including Syria, North Korea and Iran.
The Chinese Foreign Minister Wang said since the change of government in both countries, China-US relationship has had a smooth transition, got off to a good start and now enjoys strong momentum.
"President Xi Jinping and President Barack Obama met successfully twice in less than three months. They reached important agreement on our two countries working together to build a new model of major-country relationship, charting the future course for China-US ties," he said.