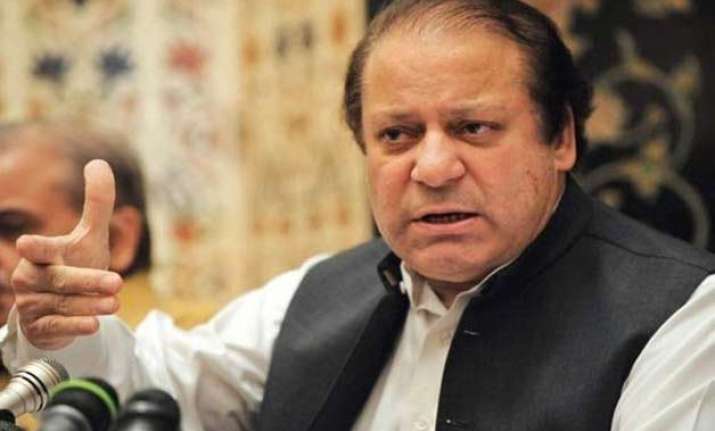 Islamabad: Pakistan Prime Minister Nawaz Sharif today said his government is "not in a hurry" to join the Saudi-led coalition fighting rebels in Yemen, as he sought parliamentary backing for any decision to send troops.  The joint session of the National Assembly and the Senate started yesterday to discuss deployment of troops on Saudi Arabia's request.
Pakistan has yet to make a decision.  Saudi Arabia has asked Pakistan to join its 10-nation coalition against Yemen's Shia Houthi rebels, who, with the help of military units loyal to former president Ali Abdullah Saleh, have captured a number of key Yemeni cities including the capital Sanaa and the southern port city of Aden.  
Sharif asked the lawmakers to advise the government on the difficult issue of sending troops for this war.  "We are not in a hurry, we will take all your good points," said Sharif, who was sheltered by Saudi Arabia when overthrown in a 1999 military coup by Gen Pervez Musharraf.  
"I am not saying that you should decide based on the government's policy, you should guide the government. Leaders should tell us what to do. What stance should Pakistan take?" he said, adding the "entire nation has its eyes on the joint session."
"I assure you that whatever is decided by this assembly will be implemented," he said.
At the start of the session yesterday, defence minister Khawaja Asif moved a motion to discuss the crisis and whether to join Saudi forces' military operations against the Shia Houthi rebels in Yemen.
The minister in his policy statement said that Pakistan wanted peaceful solution of the Yemen issue through political and diplomatic means.
Despite strong and longstanding ties with Saudi Arabia, Pakistan is reluctant to join the war for fear of upsetting neighbouring Shia-dominated Iran.
Sharif also suggested to involve Iran in a debate on security in Yemen. Iran has condemned the Saudi air strikes on Yemen. Saudis allege that Iran was supporting Shia Houthi rebels, a charge denied by Tehran.