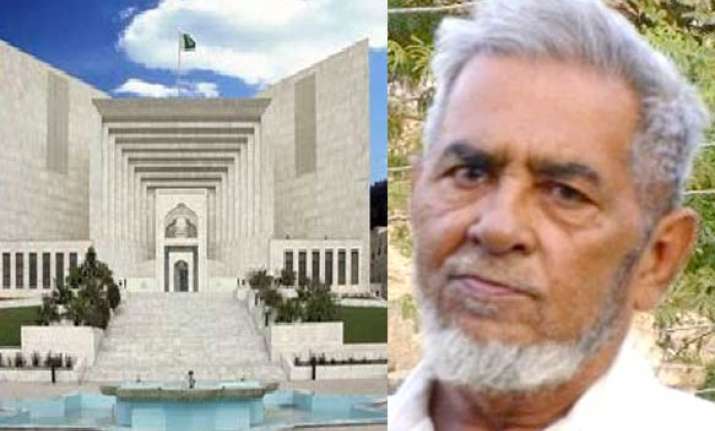 Islamabad, Jun 16: Citing jurisdictional limitations, Pakistan's Supreme Court on Wednesday refused to borrow a leaf out of its Indian counterpart's example and appeal to India for granting remission to 80-year-old Saiyyad Mohammed Khaleel Chishty who has been jailed in a Rajasthan prison since 1992, The Hindu reported.

Encouraged by Islamabad's goodwill gesture of releasing Indian prisoner Gopal Dass in March before completion of his sentence in response to an appeal from the Supreme Court of India (SCI), Dr. Chishty's family had filed a petition in the Supreme Court on June 1, seeking a similar intervention from the highest judiciary of the land.

The three-judge bench, headed by Chief Justice Iftikhar Chaudhry, dismissed the petition after the Ministry of Foreign Affairs informed the court that it was actively pursuing the matter with the Indian government to secure Dr. Chishty's release and repatriation at the earliest.

According to the petitioner's counsel, former Law Minister Iqbal Haider, the court said that India was a sovereign State and beyond its jurisdiction. When the Indian court's request in the Gopal Dass case was flagged, the Chief Justice said the same was not possible under the rules.

Last month, Dr. Chishty's family had written to President Asif Ali Zardari and Prime Minister Syed Yusuf Raza Gilani to request their Indian counterparts to remit his sentence. Pointing out that lack of jurisdiction over Pakistan had not prevented the Indian court from appealing to the Government of Pakistan to release Mr. Dass, the Chishty family was optimistic that the President and Prime Minister of India would not ignore such an appeal/request but reciprocate Pakistan's humanitarian and generous gesture of releasing and repatriating Mr. Dass.

Given Dr. Chishty's failing health, the family's only desire is to see him return to Pakistan so that he can fulfil his desire of spending his last days with his family. According to his daughter, Dr. Chishty was wrongly implicated in a family feud while on a visit to Ajmer to meet his mother who was living with another son. The case of rioting registered against him was pending for 19 years. In 2010, he was convicted under Section 302 and sentenced for 14 years. A heart patient with an unhealed hip fracture, Dr. Chishty is currently in a prison hospital.

In March this year, ahead of the World Cup cricket semi-final match between India and Pakistan, Mr. Zardari had pardoned Mr. Dass "to honour" the Indian Supreme Court's appeal earlier that month to consider granting remission to him on humanitarian grounds. A two-judge bench of the Supreme Court made this appeal while disposing of a writ petition filed in 2008 by Mr. Dass through his brother.