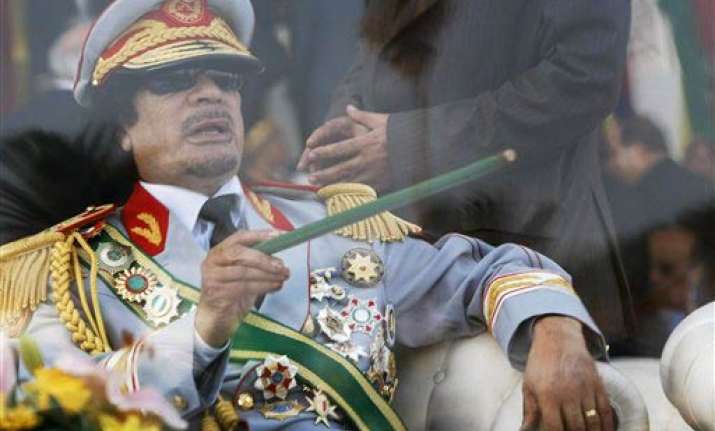 Cairo, Feb 20: Libyan security forces opened fired on mourners at a funeral for anti-government protesters in the eastern city of Benghazi again today, a day after commandos and foreign mercenaries loyal to longtime leader Moammar Gadhafi pummeled demonstrators with assault rifles and other heavy weaponry as well as knives.
Libyan protesters defied a fierce crackdown by Gadhafi's regime, returning today to a square outside a court building in the flashpoint city of Benghazi to demand the overthrow of Gadhafi. Witnesses told The Associated Press hundreds of demonstrators gathered early morning at the court building after a day of bloodshed, during which Libyan forces opened fire on mourners leaving a funeral for protesters.
In the hours after that attack, a medical official said at least 15 people were killed. But Mohammed Abdullah, a Dubai-based member of the Libyan Salvation Front, said today that the toll could be much higher. He quoted hospital officials in Benghazi saying the death toll might have reached 300.
`The crackdown in Libya is shaping up to be the most Sbrutal repression of the anti-government protests that began with uprisings that toppled the regimes in Tunisia and Egypt.
The protests then spread quickly around the region to Bahrain, Yemen, Libya, Algeria, Morocco and outside the Middle East to places including the East African nation of Djibouti and even China.
The latest violence in the flashpoint city of Benghazi followed the same pattern as the crackdown on Saturday, when witnesses said forces loyal to Gadhafi attacked mourners at a funeral for anti-government protesters.
The doctor at a Benghazi hospital said at least one person was killed by gunshots during the funeral march, and 14 were injured, including five in serious condition. He spoke on condition of anonymity for fear of reprisal. A man shot in the leg Sunday said marchers were carrying coffins to a cemetery when they passed a military
compound in Libya's second-largest city. The man said security forces fired in the air and then opened up on the crowd. (AP)