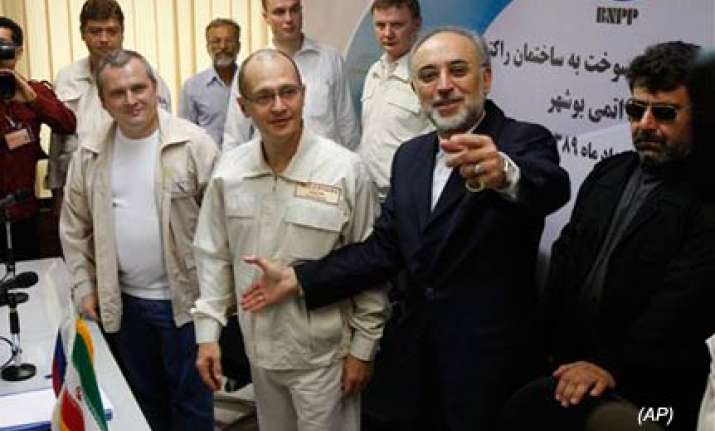 Tehran:  Iranian and Russian engineers began loading fuel into Iran's first nuclear power plant on Saturday, a major milestone as Tehran forges ahead with its atomic programme despite UN Sanctions.
The weeklong operation to load uranium fuel into the reactor at the Bushehr power plant in southern Iran is the first step in starting up a facility the US once hoped to prevent because of fears over Tehran's nuclear ambitions.Russia, which helped finish building the plant, has pledged to safeguard the site and prevent spent nuclear fuel from being shifted to a possible weapons programme.
After years of delaying its completion, Moscow says it believes the Bushehr project is essential for persuading Iran to cooperate with international efforts to ensure Iran does not develop the bomb.
The United States, while no longer formally objecting to the plant, disagrees and says Iran should not be rewarded while it continues to defy UN demands to halt enrichment of uranium, a process used to produce fuel for power plants but which can also be used in weapons production.On Saturday, a first truckload of fuel was taken from a storage site to a fuel "pool" inside the reactor building.
Over the next ten days, 163 fuel assemblies - equal to 80 tons of uranium fuel - will be moved inside the building and then into the reactor core.It will then be at least another month before the 1,000-megawatt light-water reactor is pumping electricity to Iranian cities.Iran denies an intention to develop nuclear weapons, saying it only wants to generate power with a network of nuclear plants it plans to build.
The Bushehr plant is not considered a proliferation risk because the terms of the deal commit the Iranians to allowing the Russians to retrieve all used reactor fuel for reprocessing.Spent fuel contains plutonium, which can be used to make atomic weapons.
Additionally, Iran has said that International Atomic Energy Agency experts will be able to verify that none of the fresh fuel or waste is diverted.Of greater concern to the West, however, are Iran's stated plans to build ten new uranium enrichment sites inside protected mountain strongholds.
Iran said recently it will begin construction on the first one in March in defiance of the UN sanctions. Nationwide celebrations were planned for Saturday's fuel loading at Bushehr.
"We thank the Russian government and nation for cooperating with the great Iranian nation and have placed their name in the golden history of the Islamic Republic of Iran," said Iranian Vice President and nuclear chief Ali Akbar Salehi.He spoke at a news conference inside the plant with the head of Russia's state-run nuclear corporation, Sergei Kiriyenko.
Iran's hard-liners consider the completion of the plant to be a show of defiance against UN Security Council sanctions that seek to slow Iran's nuclear advances.
President Mahmoud Ahmadinejad reiterated Friday that Tehran was ready to resume negotiations with the six major powers trying to curb Iran's programme - the five permanent Security Council members plus Germany.Ahmadinejad, however, insisted Iran would reject calls to completely halt uranium enrichment, a key UN demand.
Russia signed a 1 (b) billion US dollar contract to build the Bushehr plant in 1995 but has dragged its feet on completing the work.Moscow had cited technical reasons for the delays, but analysts say Russia used the project to try to press Iran to ease its defiance over its nuclear program.
The uranium fuel Russia has supplied for Bushehr is well below the more than 90 percent enrichment needed for a nuclear warhead.Iran is already producing its own uranium enriched to the Bushehr level, about 3.5 percent.
It also has started a pilot program of enriching uranium to 20 percent, which officials say is needed for a medical research reactor.Salehi said at a separate news briefing that Iran will not convert "all our uranium into 20 percent enriched uranium. We will go as far as our needs are met."
Most Iranian newspapers carried the power plant story on their front pages and some Tehran residents welcomed the development."I feel this is a source of pride and national solidarity," said one man, who only gave his first name, Habib.
Mohammad Reza, another resident, said he was proud an Islamic country "has achieved such technology."AP