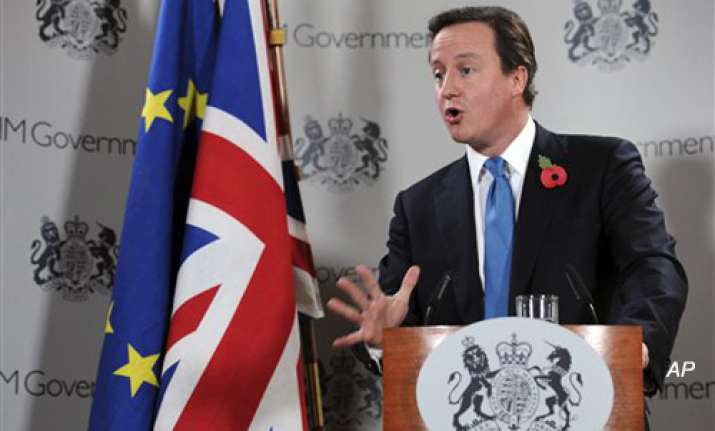 London , Oct 30 : British Prime Minister David Cameron today said the device in a package sent from Yemen and found on a US-bound cargo plane was "designed to go off on the airplane".
Cameron told reporters at his country residence, Chequers, that it was believed the explosive device intercepted at East Midlands Airport was "designed to go off on the aeroplane. We cannot be sure about when that was supposed to take place.""There is no early evidence that it was meant to take place over British soil, but of course we cannot rule it out," he was quoted as saying by BBC.
The prime minister said the authorities had immediately banned packages coming to or through the UK from Yemen , and would be "looking extremely carefully at any further steps we have to take".In Yemen , police have arrested a woman suspected of posting the packages.
She was detained in the capital, Sanaa, as part of a search for a number of suspects believed to have been behind the plot, officials said. She was reportedly traced through a telephone number she had left with a cargo company.
The suspected al-Qaeda parcel intercepted in Dubai was flown in on a Qatar Airways flight from Sanaa via Doha , the state news agency of UAE, WAM reported today.
"The General Civil Aviation Authority announced Saturday that the package discovered at Dubai International Airport ... was shipped from Sanaa on board a Qatar Airways plane heading to Doha and then forwarded from that flight to Dubai," WAM said.
A major international terror alert was sparked after security staff found printer cartridges with wires attached in cargo hubs at East Midlands Airport in the UK and Dubai yesterday. The terror group al-Qaeda is believed to be behind the plot.
"I can confirm that the device was viable and could have exploded. The target may have been an aircraft and had it detonated the aircraft could have been brought down," Theresa May said earlier.
Speaking after a meeting of the COBRA, the UK Government's emergency planning committee, to discuss the security situation, May said: "We do not believe that the perpetrators of the attack would have known the location of the device when it was planned to explore".
Earlier, two mail bombs sent from Yemen to synagogues in Chicago unleashed fears of a renewed al-Qaeda terror offensive against the US and European nations.
May said the investigation "remains sensitive." "We are working closely with international partners to increase our understanding of this case and of course to bring those responsible to justice". However, she said "at this stage there is no information to indicate another attack is imminent."
"At this stage there is nothing to suggest that any location in the UK was being targeted. We are urgently considering what steps need to be put in place regarding security of freight originating from Yemen . For security reasons there are currently no direct flights from Yemen to the UK ," she said.
May said she had spoken with US Secretary for Homeland Security Janet Napolitano.She underlined that the safety and security of the UK "remains my number one priority". "We are working closely with our international colleagues and will continue to do so."
Britain suspended direct flights from Yemen in January after a Nigerian "underwear bomber" with links to the Arab country allegedly tried to blow up a US airliner over Detroit on Christmas day in 2009.
British police said a suspect package had arr