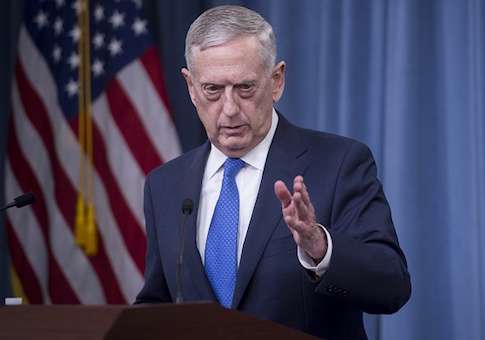 The US wants Pakistan to act in "its best interest" and take action against terror safe havens, Jim Mattis said today, ahead of his first visit to Islamabad as America's Defence Secretary.
Mattis embarked on a four-nation tour yesterday which will take him to Egypt, Jordan, Pakistan and Kuwait. During the tour, he will re-affirm the US enduring commitment to partnerships in the Middle East, West Africa and South Asia.
"In Afghanistan, we have heard from Pakistan leaders that they do not support terrorism. So I expect to see that sort of action reflected in their policies," Mattis told reporters travelling with him to Egypt.
"They have said that they do not support havens for any terrorists, and Pakistan has taken significant casualties - both innocent people and their army - significant casualties from them. So we expect them to act in their own best interest, and in support of peace and regional stability," he said.
Mattis will visit Pakistan on Monday where he is expected to meet Prime Minister Shahid Khaqan Abbasi and Army Chief Qamar Javed Bajwa, the Pentagon said.
"Im making my first trip to Pakistan as secretary of defense...The US remains committed to a pragmatic relationship that expands cooperation on shared interests while reinforcing President Trumps call for action against terrorist safe havens," he said.
Responding to a question on Pakistan's failure to take actions against terrorists, Mattis said Pakistan has to act in its own best interest.
"They know this. In many cases, they are. But what were looking for is to broaden the common ground and make certain that no terrorist organisation is seen as able to operate from a haven there," he said.
Observing that 39 nations have troops on the ground in Afghanistan fighting terrorism, Mattis said the US was looking to make a common cause with them.
"There's plenty of collaborative areas, right now, still in effect. There's been some areas that we have lost over the years, because of disagreements about what we need to do," he said.
"So this is an effort by the new American administration, to go in and set the conditions for future collaboration that leads to reconciliation in Afghanistan and a denial of safe havens for any terrorist group that would attack anyone in the region or elsewhere in the world, which a number of countries have suffered from," Mattis said.
On August 21, US President Donald Trump announced his South Asia strategy in which he had criticised Pakistan for providing safe havens to terrorists.