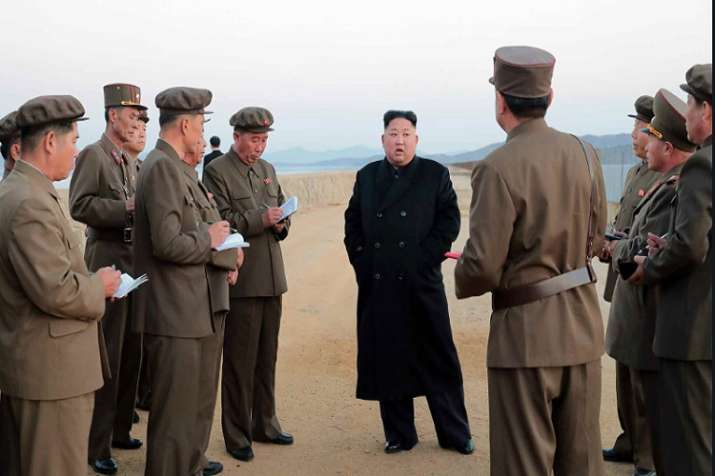 North Korean leader Kim Jong Un has overseen the testing of a "newly developed ultramodern tactical weapon", Pyongyang's state media reported on Friday.
It was the first official report of a weapons test by North Korea since it began diplomatic process with Washington over its nuclear and missile programme.
"Kim Jong Un... visited the test ground of the Academy of Defence Science and supervised a newly developed ultramodern tactical weapon test," said the official Korean Central News Agency.
Pyongyang's suspension of testing for nuclear weapons and ballistic missiles has been key to this year's rapid diplomatic developments and North Korean-US negotiations, and has been repeatedly praised by President Donald Trump.
Trump and Kim met in a historic summit in Singapore in June, where they signed a vaguely worded document on denuclearisation of the peninsula.
Hours after the KCNA report, the US State Department said it was "confident" the process remained on track.
"At the Singapore Summit, President Trump and Chairman Kim made a number of commitments regarding final, fully verified denuclearisation and creating a brighter future for North Korea," a statement said.
"We are talking with the North Koreans about implementing all of those commitments. We remain confident that the promises made by President Trump and Chairman Kim will be fulfilled." 
The news came almost a year after Pyongyang's last test of an intercontinental ballistic missile and recalled the repeated announcements of 2017, which included by far its most powerful nuclear blast to date and rockets that brought the whole of the US mainland into range.
Soon afterwards Kim declared the development of his nuclear arsenal -- which Pyongyang has long said it needs to defend itself against a possible invasion by the US -- complete.
The Winter Olympics in the South then triggered a rapid diplomatic rapprochement on the peninsula, heralding the Singapore meeting and three summits between Kim and South Korean President Moon Jae-in.
A second meeting  between Kim and Trump is expected in the new year.
But Pyongyang is demanding sanctions imposed against it over its weapons programmes are eased and has condemned US demands for what it calls its "unilateral" disarmament as "gangster-like".