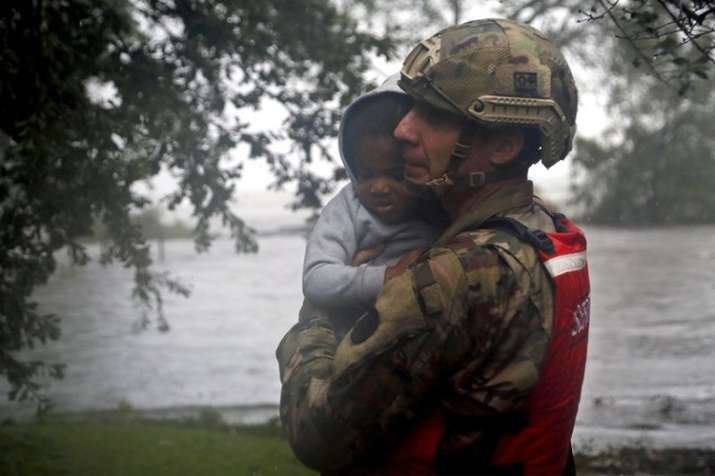 At least four people including a mother and her baby were killed as Hurricane Florence packed with 90 miles per hour winds swamped entire communities along the Carolina coast on Friday. 
The mother and her baby were killed when a tree fell on a house, according to a tweet from Wilmington police. Also, a 77-year-old man was apparently knocked down by the wind and died after going out to check on his hunting dogs, Lenoir County authorities said, and the governor's office said a man was electrocuted while trying to connect extension cords in the rain.
As the nearly 400-mile-wide Florence pounded away at the coast with torrential downpours and surging seas, rescue crews used boats to reach more than 360 people besieged by rising waters in New Bern, while many of their neighbors awaited help. More than 60 people had to be rescued in another town as a cinderblock motel collapsed at the height of the storm's fury.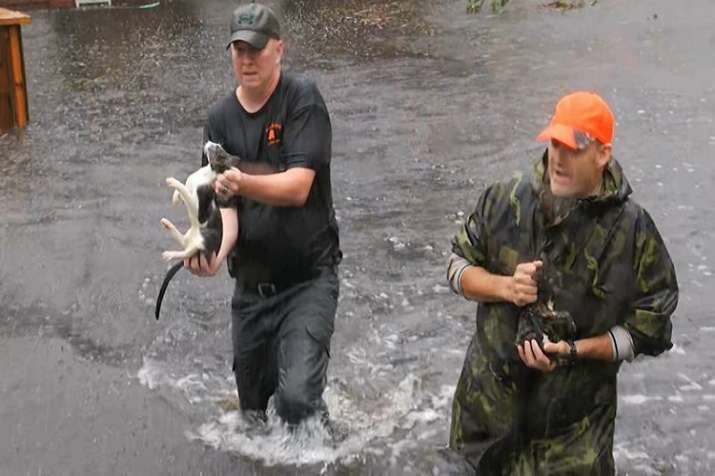 Florence flattened trees, crumbled roads and the assault wasn't anywhere close to being over, with the siege in the Carolinas expected to last all weekend. The storm knocked out power to more than 890,000 homes and businesses, according to poweroutage.us, which tracks the U.S. electrical grid.
North Carolina Governor Roy Cooper called Florence an "uninvited brute" that could wipe out entire communities as it grinds across the state.
"The fact is this storm is deadly and we know we are days away from an ending," Cooper said. Parts of North Carolina had seen storm surges — the bulge of seawater pushed ashore by the hurricane — as high as 10 feet (3 meters), he said.
After reaching a terrifying Category 4 peak of 140 mph (225 kph) earlier in the week, Florence made landfall as a Category 1 hurricane at 7:15 a.m. at Wrightsville Beach, a few miles (kilometers) east of Wilmington and not far from the South Carolina line. It came ashore along a mostly boarded-up, emptied-out stretch of coastline.
By Friday evening, Florence was downgraded to a tropical storm, its winds weakened to 70 mph (112 kph) as it moved forward at 3 mph (6 kph) about 15 miles (25 kilometers) north of Myrtle Beach, South Carolina.
Florence's forward movement during the day slowed to a near-standstill — sometimes it was going no faster than a human can walk — and that enabled it to pile on the rain.
The flooding soon spread into South Carolina, swamping places like North Myrtle Beach, in a resort area known for its white sands and multitude of golf courses.
For people living inland in the Carolinas, the moment of maximum peril from flash flooding could arrive days later, because it takes time for rainwater to drain into rivers and for those streams to crest.
Preparing for the worst, about 9,700 National Guard troops and civilians were deployed with high-water vehicles, helicopters and boats.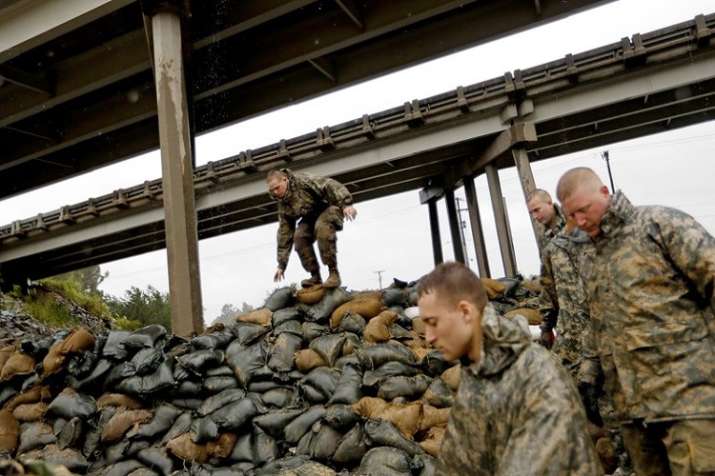 Authorities warned, too, of the threat of mudslides and the risk of an environmental disaster from floodwaters washing over industrial waste sites and hog farms.
Florence was seen as a major test for the Federal Emergency Management Agency, which was heavily criticized as slow and unprepared last year for Hurricane Maria in Puerto Rico, where the death toll was put at nearly 3,000.
The National Hurricane Center said Florence will eventually break up over the southern Appalachians and make a right hook to the northeast, its rainy remnants moving into the mid-Atlantic states and New England by the middle of next week.
Some of the worst flooding was in New Bern, where authorities were enforcing a curfew.
Both the Trent and Neuse rivers overflowed their banks, flooding homes, stores and streets and trapping many people in their houses.
"WE ARE COMING TO GET YOU. You may need to move up to the second story, or to your attic, but WE ARE COMING TO GET YOU," the authorities in New Bern said on Twitter.
Governor Cooper said there have been "several hundred" rescue operations and "there are still some people they need to get to."
Besides federal and state emergency crews, rescuers were being helped by volunteers from the so-called "Cajun Navy" who also turned up in Houston during Hurricane Harvey to carry out water rescues.
Meanwhile, US President Donald Trump will travel to areas hit by Hurricane Florence next week, the White House said Friday, as the deadly storm pummels the US East Coast with torrential rains.
"The president is expected to travel to areas affected by the storm early to middle of next week, once it is determined his travel will not disrupt any rescue or recovery efforts," White House spokeswoman Sarah Sanders said.