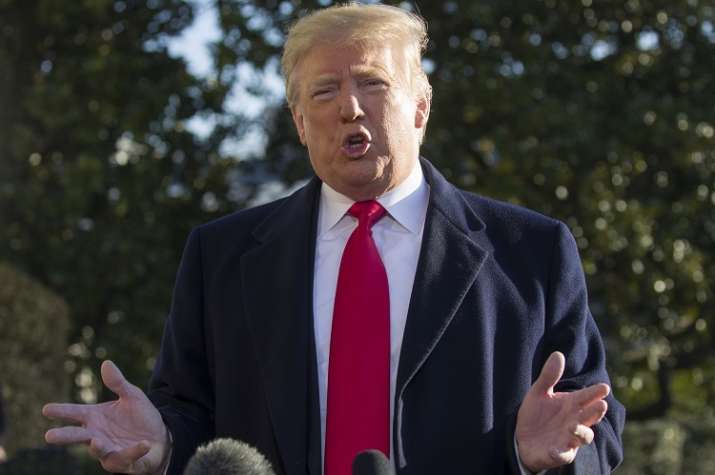 Indian-origin policeman Ronil "Ron" Singh who was recently killed in California was on Thursday described as national "hero" by US President Donald Trump. America's heart broke the day the young officer was "savagely murdered" in cold blood by an "illegal alien", Trump said.
"America's heart broke the day after Christmas when a young police officer in California was savagely murdered in cold blood by an illegal alien (who) just came across the border. The life of an American hero was stolen by someone who had no right to be in our country," the US president said.
Corporal Singh, 33, of the Newman Police Department was shot and killed during a traffic stop on December 26 allegedly by an illegal immigrant.
Trump on Thursday spoke with the family members and law enforcement colleagues of Singh, a native of Fiji who joined the force in July 2011.
The Californian police have arrested 33-year-old illegal immigrant from Mexico identified as Gustavo Perez Arriaga on charges of killing Singh.
Trump made a case for building a wall along the Mexico border in his first address to the nation from the Oval Office.
He said precious lives were cut short repeatedly by those who have violated the borders.
"In Maryland, MS-13 gang members who arrived in the United States as unaccompanied minors were arrested and charged last year after viciously stabbing and beating a 16-year-old," he said.
Trump said over the last several years, he has met with dozens of families whose loved ones were killed by illegal immigration.
"I've held the hands of the weeping mothers and embraced the grief-stricken fathers. So sad. So terrible. I will never forget the pain in their eyes, the tremble in their voices and the sadness gripping there. So how much more American blood must we shed before Congress does its job," he said.
The US president has invited congressional leadership to the White House on Wednesday to find a solution.
"Hopefully, we can rise above partisan politics in order to support national security," he said.
Observing that some people have suggested that a barrier is immoral, Trump asked why do wealthy politicians build walls, fences and gates around their homes.