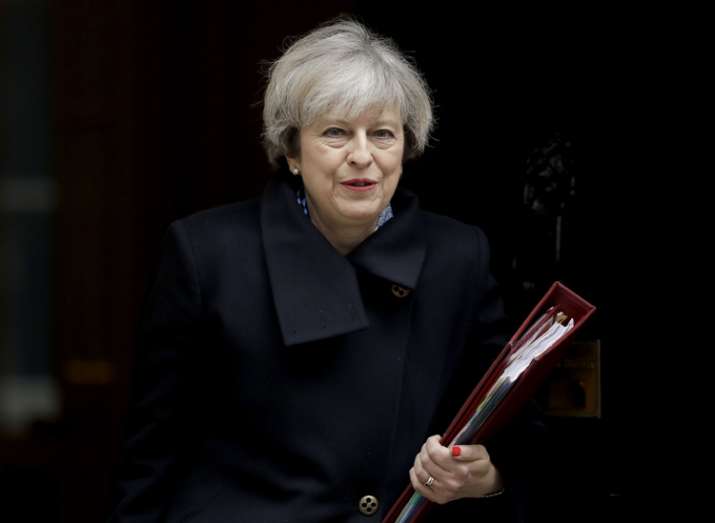 British Prime Minister Theresa May on Wednesday called a meeting of the government emergency committee to discuss the response to the 'terror incident' at Parliament, soon after she was rushed to safety by security officials. 
The emergency committee known as Cobra coordinates the high-level response to serious incidents. It brings together government ministers with senior officials of the emergency services and security and intelligence agencies.
Such meetings are held after serious incidents such at the July 7, 2005, attack on London transport services.
The Wednesday meeting is held in the briefing room of the Cabinet Office on Whitehall.
May had just completed her weekly Prime Minister's Questions when the reports of attack outside the Parliament came in. 
She was seen being ushered into a car as gunfire rang out at Parliament during the incident.
Downing Street said the PM was "safe" as emergency services helicopter was seen landing in Parliament Square, which has been cordoned off and closed to traffic.
A spokesman for her declined to say where May was when the attack took place.
A vehicle mowed down pedestrians on London's Westminster Bridge, killing at least one woman and leaving others with injuries described as catastrophic. Around the same time Wednesday, a knife-wielding attacker stabbed a police officer and was shot on the grounds outside Britain's Parliament, sending the compound into lockdown.
Authorities said they were treating the attacks as a terrorist incident. Some of those injured were French high school students, France's prime minister said.
The threat level for international terrorism in the U.K. was already listed at severe. Wednesday was the anniversary of suicide bombings in the Brussels airport and subway that killed 32 people, and the latest events echoed recent vehicle attacks in Berlin and Nice, France. There was no immediate claim of responsibility and it was not clear if there was more than one attacker.