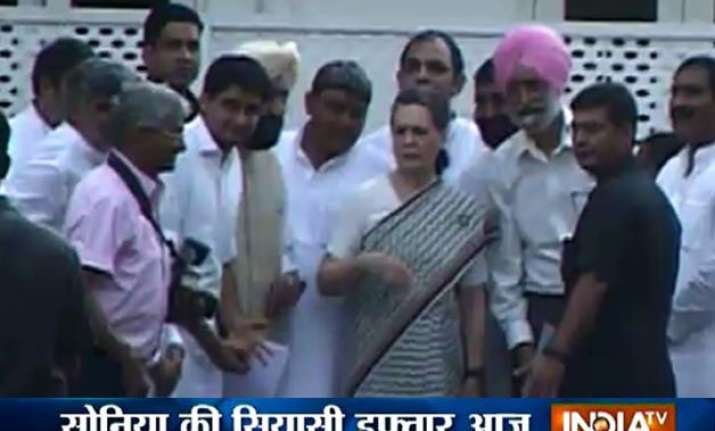 Opposition to strategise on Parliament session at Sonia Gandhi's Iftar today
New Delhi:
With the Modi government battling propriety issues over the Lalit Modi row and the furore on Vyapam scam, leaders of "like-minded" parties will meet for Congress president Sonia Gandhi's Iftar dinner today where they are likely to deliberate on the strategy for Parliament session beginning July 21.
Lalu to lead 'Raj Bhavan March' in Patna today to protest with holding of caste figures
Patna: RJD president Lalu Prasad will lead a 'Raj Bhavan March' of his party workers today to reiterate his demand for release of caste data of the socio-economic and caste census (SECC).
Rajnath Singh to chair consultative committee meeting of MHA today
Panaji: The Union Home Minister, Rajnath Singh will Chair the Consultative Committee Meeting of the Ministry of Home Affairs tomorrow, in Goa.
He will review the country's coastal security with the Members of Parliament attached to the Home Ministry that will also be attended by Ministers of State for Home Affairs, Kiren Rijiju and Haribhai Parathibhai Chaudhary, the Ministers of Parliamentary Affairs, Rajiv Pratap Rudy and Mukhtar Abbas Naqvi and top security experts at a high-level meeting.
Nitin Gadkari to visit Chenani-Nashri tunnel project today
Udhampur: Union Minister for Surface Transport Nitin Gadkari is scheduled to visit the Chenani- Nashri tunnel today when it reaches the "breakthrough point" in which the two ends of tunnel will be connected at Udhampur district.
BJP President Amit Shah to visit MP capital today
Bhopal: BJP president Amit Shah will be in the Madhya Pradesh capital today to take stock of party's membership drive of both Madhya Pradesh and neighbouring Chhattisgarh.
Labour conference to be held today
Gandhinagar: The Union ministry of labour and employment will hold the Western Regional Labour Conference in Gandhinagar today.
Maharashtra Monsoon session to begin from today
Mumbai: Monsoon session of the Maharashtra Legislature, beginning today, is expected to be a stormy one with allegations against some of the high profile ministers giving ample ammunition to the Congress-NCP opposition to corner the BJP-led government headed by Devendra Fadnavis.
Salman Khan hit-and-run case: Bombay HC adjourns hearing till today
Mumbai: In a relief to Bollywood actor Salman Khan, Bombay High Court on Friday adjourned the hearing of the hit and run case till today.
Mohalla Assi row: Allahabad High Court defers hearing till today
Lucknow: The Allahabad High Court yesterday deferred the hearing on a petition till today seeking direction against clearance to Sunny Deol-starrer 'Mohalla Assi'.
FTII director to be picked in today's meet
Mumbai: Amid the raging controversy surrounding alleged political appointments in Film and Television Institute of India (FTII) society, the Union Information and Broadcasting Ministry is scheduled to hold a meeting in New Delhi today to appoint a new director for the institute.