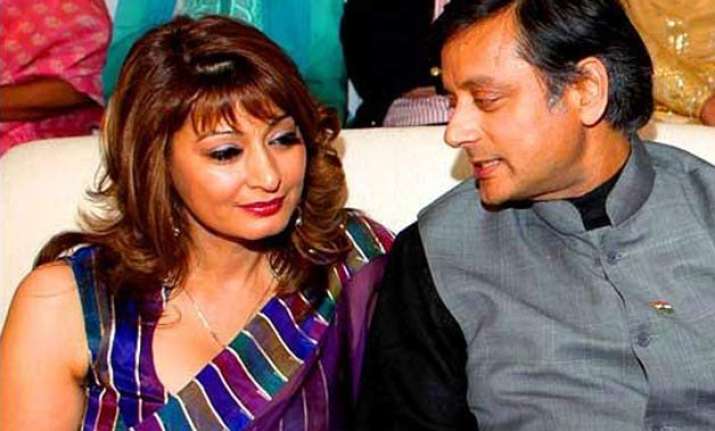 New Delhi: The Delhi Police today confirmed that Sunanda Pushkar, wife of former Union Minister Shashi Tharoor was murdered.
Delhi police has filed a case of murder against unknown persons in this case. The police have relied on medical and forensic reports while registering a case under section 302 of the IPC.
"We have got the final medical report from AIIMS, and we have been told that it was an unnatural death... It was not a natural death," Bassi told the media.
"She died due to poisoning. Whether the poison was given orally or injected into her body is being investigated," he said, adding the report from the All India Institute of Medical Sciences was received Dec 29.
Bassi said the quantum of poison given to Pushkar, who was 52, had not yet been ascertained. "For that we will send her viscera abroad."
A murder case had now been registered, the police chief said.
"FIR has been registered, whatever is required will be done", said Delhi Police Commissioner BS Bassi.
A special team led by DCP (south) Prem Nath and additonal DCP (south) Kushwah has been formed to investigate the case.
The police will go for a re-investigation in the case which was being probed under 174 CrPC, treating the death as unnatural.
Reacting to Delhi Police disclosure, Shashi Tharoor, husband of Sunanda Pushkar and Congress MP, said that he was stunned to know that his wife Sunanda Pushkar was poisoned and that a murder case had now been filed.
In a statement here, Tharoor said: "Needless to say I am anxious to see that this case is investigated thoroughly, and (I) assure the police my full cooperation.
"Although we never thought of any foul play in the death of my wife, we all want that a comprehensive investigation be conducted and the unvarnished truth should come out," he said.
He added that he and all members of Pushkar's family wanted access to all the information on the basis of which Delhi Police had concluded that she was poisoned to death.
"We have not been provided copies of the post-mortem report and other reports of the inquiry like the CFSL report till date. We repeat our request for a copy of these reports to be provided to us immediately," said Tharoor.
Asked why it took almost a year for the final medical report to come, Delhi Police Commissioner Bassi said the interim report spoke of poisoning but did not say it was an unnatural death. "Even overdose (of medicines) can be poisoning."
When asked if Tharoor, a former central minister and now a Congress MP from Kerala, would be questioned again, he said: "We will do whatever is possible."
Bassi said Delhi Police had sought the final medical report from AIIMS several times. "Now that we have got it, we are registering a FIR."
According to reports available, the medical board constituted to investigate Sunanda Pushkar's death has also come to the conclusion that her death was unnatural and a result of poisoning.
The Medical Board, headed by Dr. Sudhir Gupta, has also revealed in its report that she was healthy before her death and didn't suffer from Lupus.
Pushkar was found dead in a luxury hotel Jan 17, 2014, a day after she and Tharoor checked in because their house was allegedly getting painted. Both had been married twice earlier.
Tharoor was then the minister of state for human resource development in the Manmohan Singh government.
Tharoor was later named by Prime Minister Narendra Modi as one of the ambassadors of his Clean India campaign. After Tharoor praised the drive, a peeved Congress dropped him as one of its official spokespersons.
The medical investigation into Pushkar's death took twists and turns.
The first autopsy report, submitted to a magistrate Jan 20 last year, had said that Tharoor's wife died due to drug overdose. But it also reported a dozen injury marks on her body.
The final autopsy report that came out in July put the number of injury marks at 15. All the injuries were caused by blunt forces except one which was an injection mark.
Later, Sudhir Kumar Gupta, who headed the forensic team in AIIMS, alleged that he was pressured to show that Pushkar's death was natural.
The AIIMS denied the allegation, and Gupta was removed from the post.
A day before she was found dead, Tharoor and Pushkar had issued a joint statement saying they were distressed by a row over some unauthorized tweets posted from their twitter account and that both were "happily married and intend to remain that way".
The statement claimed that distorted accounts of comments allegedly made by Pushkar, alleging an affair between her husband and a Pakistani journalist, had led to some erroneous conclusions.
The room where she was found dead was recently revisited by police and forensic experts.
The suite of the five star hotel, had remained sealed and was opened for the first time since the incident.
Meanwhile, Delhi Police, has decided to send Sunanda's  viscera samples to a laboratory either in Britain or the US to identify the poison including whether itcould be radioactive isotopes that cannot be detected in Indian labs.
Sources said Polonium 210, a radioactive isotope is suspected to be the poison that may have caused her death.
"The viscera samples may now be sent to an FBI lab in the US or lab in UK," said a senior police official.
Earlier medical reports had mentioned 12 injury marks on Sunanda's body including an injection mark on her hand and a teeth bite.
"The medical board had maintained that the death was unnatural and due to poisoning. However, it has clearly listed a number of poisons, most of which are radioactive chemicals which cannot be detected during forensic tests in Indian labs including thallium, polonium 210, nerium oleander, snake venom, photolabile poisons and heroin," the sources said.
A Special Team which has been formed to probe the case will investigate the case from scratch.
The team is likely to question Tharoor, his relatives and personal staff along with the employees of the five-star hotel where she was found dead on January 17 last year, the sources said.
It will also examine the hotel doctor who declared Sunanda dead and go through CCTV footage of the hotel.
The forensic report of Sunanda's mobile phones and laptop which were sent for tests will also be evaluated.