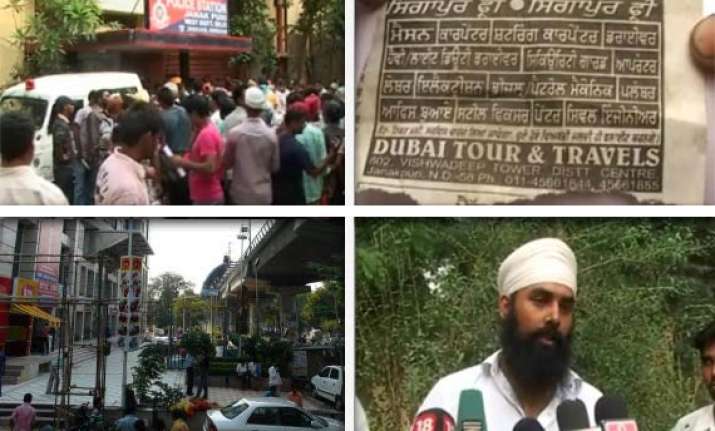 New Delhi, June 19: UK International, a placement company working out of Janakpuri District Center in west Delhi, took job money in the form of Rs 20 to Rs 30,000 from hundreds of job seekers from Punjab, Uttar Pradesh, Bihar, Haryana, Rajasthan and Madhya Pradesh, and gave them fake air tickets, the victims alleged, reports India TV reporter Kumar Abhishek.

The job seekers were promised jobs in Singapore at 700 dollars per month, said the victims.

On Saturday night, when several of the job seekers, who had deposited their passports with the firm, went to the airport, they found their air tickets fake.

Along with their baggages, passports and air tickets, the victims trooped in to the Janakpuri police station to lodge their complaints.

Says a victim Praveen Kumar Pandey: "My friends told me about the job in Singapore. The madam on the phone told me the last date of recruitment was June 30 and asked me to hurry up. They first took Rs 5,000 and later Rs 15,000 and gave me the air ticket. I had paid more than Rs 22,500 and my passport is still lying in their office. We were promised $ 700 jobs in Singapore."

Says Shamsher Singh from Amritsar: "A youth brought me here for the Singapore visit. I was asked to come with my baggage on 16th. Then they gave some excuse. I had given them Rs 20,000 and was taken to a guest house where I found others in a similar condition."

Janakpuri police called over five girls working as receptionists in the office for interrogation at the police station. The company is said to be Mumbai-based and police is keeping a tight lid on the probe.