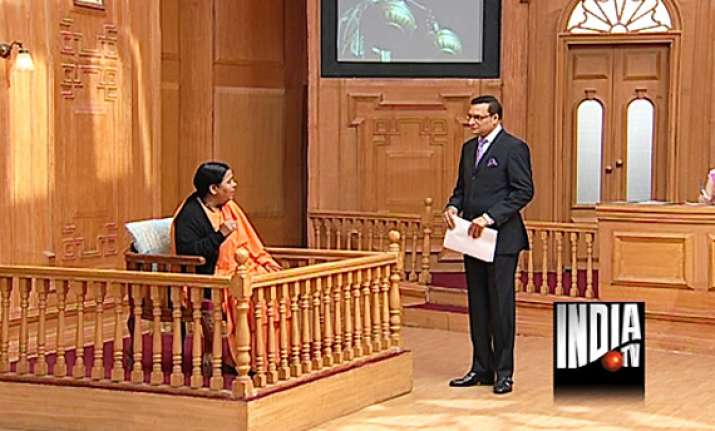 New Delhi, Jan 21: Firebrand BJP leader Uma Bharti has said, Congress leader Rahul Gandhi should be careful while speaking about her, as he still knows very little about Bundelkhand.
 
Facing a barrage of questions from Rajat Sharma in India TV's popular show Aap Ki Adalat, Uma Bharti said, had it been any Congress leader from UP questioning her entry into state politics, she could have understood, but not from Rahul.
 
The saffron sanyasin said, Rahul should know his mother has come to India from Italy, and he should be careful while speaking about me.
 
"Though Soniaji has became an Indian national, but the fact remains that she hails from Italy. My name is Uma Bharti, and the very name Bharti denotes the entire Bharat", she said.
 
On being asked where she was when Rahul was raising the Bundelkhand issue, Uma Bharti said, the problem with Nehru-Gandhi family was that the family is "self-obsessed" and they do not read or know about others.
 
"Rahul should know that in the houses of Bundelkhand, I am accepted as their daughter. He even doesn't know the meaning of  - Sau dandi, Ek Bundelkhandi (one Bundelkhandi can match one hundred lathis)", she said.
 
Uma Bharti said, it was she during the NDA rule who had brought the longest Lalitpur-Singrauli railway line to Bundelkhand, second only to Konkan Railway.
 
On Rahul's claim that he got Rs 3,000-crore Bundelkhand package from the Centre, Uma replied: "Where is the package? All the money lined up the pockets of dalals (middlemen), and didn't reach the poor.
 
"I want  tell Rahul, the conditions of people there will not improve so long as he goes to their homes to eat pakodis, it will improve only when they go to his home to eat pakodis."
 
On Congress leader Pramod Tiwari comparing her with Pootana, the female demon who had come to kill Krishna, Uma Bharti said: "He should know, Pootana was not Krishna's bua (paternal aunt) but his mousi (maternal aunt). If Rahul has any danger from anybody, he should beware of his mousis living in Italy."
 
The BJP leader said that the Congress was uneasy after her entry as a candidate in UP.
 
 "It's because I have exposed them on issues like Bundelkhand package and 4.5 pc reservation which the OBCs would lose because of Muslim reservation.
 
"The Congress will be wiped out in this election, and the same will happen in 2014 too. That's why they are after me", she said.
 
On charges that she had been brought to UP to mobilise the Lodh caste to which she belonged, Uma Bharti said, the Lodh votes count in nearly 150 seats, out which they are more than 50,000 in nearly 100 seats of UP.
 
"I was born in Lodh caste, but after becoming a sanyasin, I have done the pind-daan(cut off my familial links). I don't belong to a particular caste any more."
 
Uma Bharti promised to throw all corrupt and criminals into jails and have their properties attached if BJP came to power in UP.
 
She vowed before the audience that she would jump into the river Ganga, if the BJP gave protection to the corrupt and criminals.
 
She refused to answer questions about Babu Singh Kushwaha, the tainted ex-BSP minister admitted to BJP. "Whatever I had to say, I have said on the party forum. I won't speak on this issue here".
 
Uma Bharati in Aap Ki Adalat will be telecast tonight (Saturday) at  10 pm and on Sunday at 10 am and 10 pm on India TV.