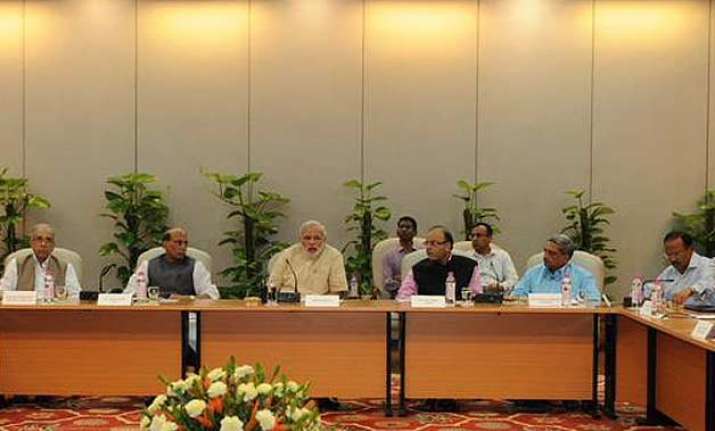 New Delhi: Prime Minister Narendra Modi tonight took stock of the rescue and relief efforts in quake-hit areas at home and in Nepal and pushed for streamlining the operations and greater coordination among the stake-holders.
Chairing a follow-up meeting to review the progress of relief and rescue operations following the major earthquake in Nepal on Saturday, Modi took stock of the evacuation of stranded people from Nepal both by air and road and provision of relief supplies and material to affected areas.
The Prime Minister, according to a PMO statement, emphasized on ensuring proper coordination between the Centre and state governments both for ensuring smooth flow of relief operations in the affected states and to streamline the delivery of relief and rescue material to Nepal.
He said all necessary medical help should be given to the injured, including treatment in India, if required.
The Prime Minister stressed on the need for effective coordination of relief operations within Nepal and especially at Kathmandu airport.
He suggested ex-servicemen could be approached to help in the coordination effort.Modi also made a broad assessment of the long-term rehabilitation and reconstruction work that would be required, especially in Nepal, and was briefed on the first steps being taken towards this end.
The Prime Minister was briefed on the progress of relief and rescue work being carried out by various agencies involved both in India and Nepal.
This was the third meeting chaired by the Prime Minister on the earthquake and relief and rescue operations since Nepal and Bihar, West Bengal and Uttar Pradesh were hit by the quake.
The meeting was attended by Union Ministers Arun Jaitley, Rajnath Singh, Manohar Parrikar, National Security Advisor Ajit Doval, Cabinet Secretary Ajit Seth, Principal Secretary to the Prime Minister Nripendra Misra and Additional Principal Secretary to the Prime Minister P.K. Mishra and senior officials of government, IMD, and NDRF.