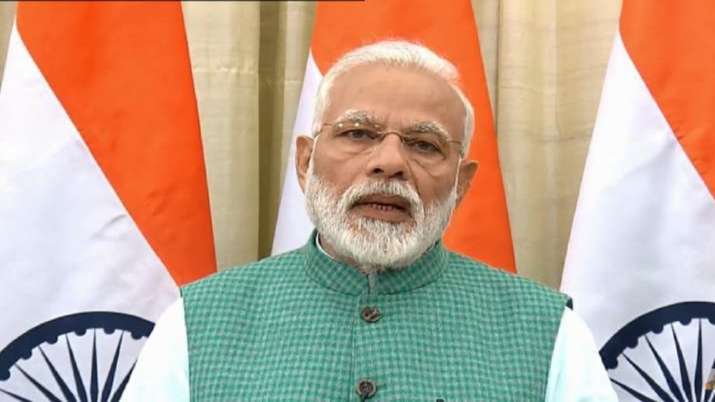 Prime Minister Narendra Modi addressed the nation through his monthly radio programme 'Mann Ki Baat' today. Addressing his monthly radio programme, Modi said the recent agriculture reforms have begun mitigating the troubles of farmers in a short span of time as he cited the example of a Maharashtra farmer who used the provisions of the new laws to get the money promised to him by a trader. His remarks come at a time when thousands of farmers, mostly from Punjab, have dug in their heels at Delhi's border points and hundreds have gathered at the city's Burari ground, united in their determination to hold protests against the new farm laws.
Earlier on November 17, PM Modi had invited suggestions from the people, for the 71st edition of the programme. 
Mann Ki Baat HIGHLIGHTS
11:33 am: Committed to the welfare of the hardworking Indian farmer: PM Modi
11:31 am: I ask all agricultural students to help inform farmers in their nearby areas of the new reforms: PM Modi
11:30 am: It is not that Sri Aurobindo ever opposed learning anything from abroad. Wherever there is anything new, we should learn from there, then support, encourage what can be good for our country. That is the spirit of Vocal For Local in Atma NirbharBharat campaign: PM Modi
11:28 am: My dear countrymen, the 5th December is the death anniversary of Sri Aurobindo. The more we read Sri Aurobindo, greater is the insight that we get: PM Modi
11:27 am: IIT Delhi has initiated an endowment fund, which is a brilliant idea. There is a culture of such endowments in renowned universities across the world, which helps the students. I think universities of India are also capable to institutionalize this culture: PM Modi
11:25 am: Even as hundreds of farmers continue a days-long protest against the Centre's farm laws which have been dubbed 'anti-farmer', these farm laws have broken the shackles of various farmers and begun to lessen their problems: PM Modi
11:24 am: Schools and colleges should work to fortify their alumni network: PM Modi
11:23 am: The restoration efforts of Lakhpat Gurudwara were honored with Award of Distinction by UNESCO Asia Pacific Heritage Award in 2004: PM Modi
11:21 am: It has now become easier for our Sikh brothers and sisters abroad to send contributions in the service of Darbaar Sahib. With this step, the Sangat, the followers all over the world have come closer to Darbaar Sahib: PM Modi
11:19 am: The legacy of 'langars' of feeding needy people had continued through the COVID-19 pandemic by Sikh communities: PM Modi ahead of Guru Nanak Jayanti tomorrow
11:17 am: India's culture and scripture have always been a centre of attraction for the entire world. Some people came to India in search of them and stayed here for life. While some returned to their countries as cultural ambassadors of India: PM Modi
11:16 am: The culture of India is gaining popularity all over the world. One such effort is by Jonas Masetti, who is based in Brazil and popularises Vedanta as well as the Gita among people there. After completing mechanical engineering, Jonas worked for his stock market company. Later he was attracted towards Indian culture, especially towards Vedanta. He studied Vendanta in India &spent 4 yrs at Arsha Vidya Gurukulam in Coimbatore. I congratulate Jonas for his efforts: PM Modi
11:15 am: Prime Minister Narendra Modi lauds Dr. Gaurav Sharma, one of the youngest and newly-elected MPs in New Zealand, who on Wednesday took oath in Sanskrit in the country's Parliament. Sharma, 33, hailing from Himachal Pradesh's Hamirpur, was recently elected as the Member of Parliament from the Labour Party for Hamilton West in New Zealand
11:14 am: Friends, this 12th November marked the commencement of the 125th birth anniversary celebrations of Dr SalimAli ji: PM Modi
11:12 am: In India too, many bird-watching societies are active. You too should connect yourselves with this subject: PM Modi
11:11 am: Our perspective in observing nature also undergone change. We are now stepping into winter season. We will get to see myriad hues of nature: Modi
11:10 am: Pandemic has changed our ways of working. It has provided us with opportunity to experience nature in new manner: PM Modi
11:09 am: Recently I was reading about an interesting project. There is an island named Svalbard in the north of Norway. A project, Arctic World Archive, has been setup on this island: PM Modi
11:08am: Attempts are being made to digitalise museums and other heritage sites amid the Covid-19 pandemic, including the Ajanta Caves: PM Modi
11:06: With the help of technology, culture works like emotional recharge. Today, lots of museums, libraries in country working to make their collection fully digital: PM Modi
11:05 am: Despite of corona this time, we saw people celebrate World Heritage Week in innovative manner: PM Modi
11:04 am: We are stepping into winters. The internet is replete with pictures of Cherry Blossom flowers, but they are not from Japan, but from India's Shillong: PM Modi
11:02 am: An 'Annapurna' idol which was stolen from Varanasi in UP years ago, is being returned to India by the Canadian government. Almost 100 years ago in 1913, this idol was stolen from a temple in Varanasi and was smuggled out of the country: PM Modi
11:00 am: Prime Minister Narendra Modi begins his address through Mann Ki Baat radio programme
"Mann ki Baat" is the Prime Minister's monthly radio programme addressed to the nation, which is broadcasted on the last Sunday of every month.