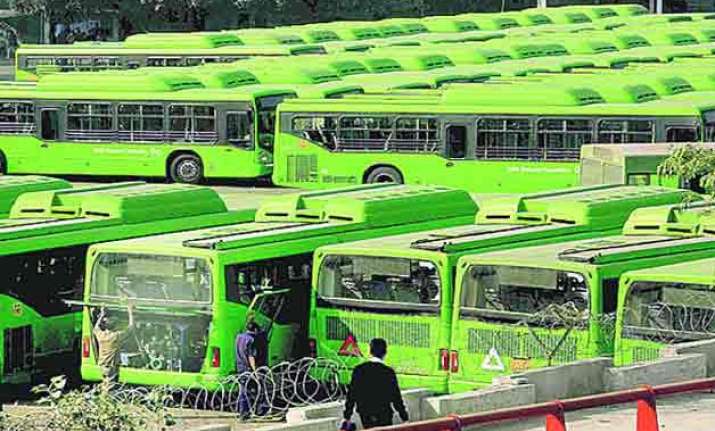 New Delhi: Bus transport services today remained crippled across the city due to a strike by DTC employees demanding a compensation of Rs one crore to the kin of a deceased driver following which Delhi government clamped Essential Services Maintenance Act (ESMA) against the agitating staff.
"Under provision of ESMA, services of striking employees will be terminated if they don't turn up for work. If any employee disrupts government work then they can be arrested also," a senior official told PTI.
The government action came after people across the city faced harrowing experience in absence of around 4,000 DTC buses on the first day of the strike by the DTC employees. In some areas, very few DTC buses operated.  
The DTC drivers were demanding a compensation of Rs one crore to family of DTC driver Ashok Kumar (42) who was beaten to death yesterday allegedly by a youth after his bus grazed the latter's bike in Mundka area of west Delhi. The Delhi government had announced a compensation of Rs 5 lakh to Kumar's family.
The strike affected commuting of students in hundreds of schools which had commercial pact with DTC. Some schools had alerted the parents to make arrangements to drop and pick up their children while majority of the schools could not anticipate the impact of the strike.  
Office-goers also had to face lot of difficulty. Auto rickshaws in many areas charged exorbitant fares and the commuters did not have any option but to heed to their demand. "Ashok Kumar didn't die in an accident but was murdered while he was on duty. Rs 5 lakh is no compensation to pay for his life," said Rampath Kasana of Delhi Parivahan Mazdoor Sangh.
The DTC claimed they managed to operate 704 buses "against all odds".
The cluster bus operators said they could run around 500 buses against 1300 on a normal day as DTC employees did not allow them to ply.
DTC has deputed all regional managers, depot managers and other officers to make arrangements to put maximum buses on the road.
The Delhi government accused BJP of encouraging the DTC employees to launch the strike.
"BJP is doing politics over the issue. BJP has provoked DTC workers to go on strike. We held a meeting with the police officials and have decided to give security to DTC employees who want to operate the buses," said Delhi Transport Minister Gopal Rai.