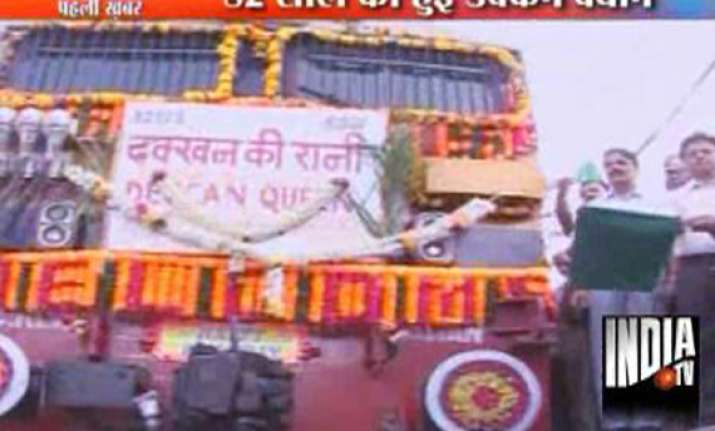 Mumbai, June 2: The famous Mumai-Pune Deccan Queen  has completed 82 years.
For the last several decades, most of the daily passengers consider this train as their second home.
On Friday, the general manager of Centra Railway flagged off the Deccan Queen from Chhatrapati Shivaji Terminus.
The Deccan Queen was specially decorated on the occasion and the passengers were offered bouquets by railway staff.
Deccan Queen was introduced in the 1930s. It connects Mumbai with Pune in a three-and-a-half hour ride.
"The introduction of Deccan Queen between the two premier cities on June 1, 1930, was a major landmark in the history of the Great Indian Peninsula Railway (GIPR), now called the Central Railway.This was the first deluxe train introduced on the railway to serve two important cities of the region and was aptly named after Pune, also called as Queen of Deccan," said a senior CR official.
The history of Deccan Queen (Dakkhan ki Rani) is literally a tale of two cities.Over the last 82 years, the train has grown from a mere medium of transportation between two cities into an institution binding generation of loyal passengers.
"Initially, the train was introduced with two rakes of seven coaches each — one of painted in silver with scarlet mouldings and the other with royal blue with gold lines. The under frames of the coaches of the original rakes were built in England while the coach bodies were built in the Matunga Workshop of the GIPR," the official said.
The number of coaches in the rake was also increased to 12 from the original seven coaches providing additional accommodation.Over the year the number of coaches in the train has been increased to the present level of 17 coaches.