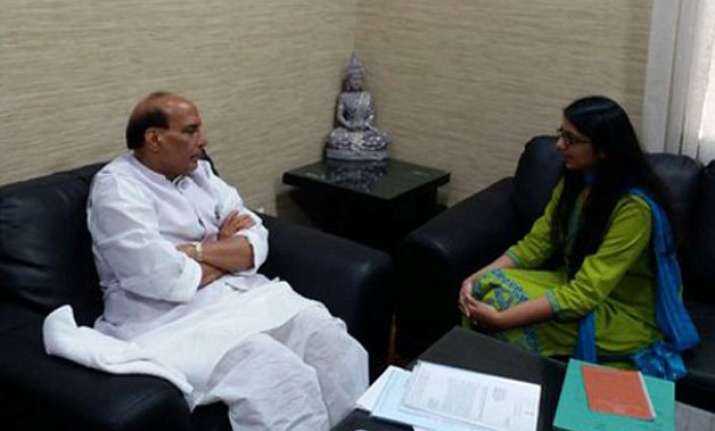 New Delhi: Delhi Commission for Women (DCW) chief Swati Maliwal today met Union Minister of Home Affairs Rajnath Singh and said there is an absence of synergy between Central Government, Delhi Government and Police and hence a coordinated response towards women safety is lacking.
"I had sought an appointment with the Home Minister because rapes are increasing in the national capital regularly. The way minor girls are being harassed is very wrong. I have raised few appeals with few minister and he has given me positive response," Maliwal told reporters after the meeting.
"Firstly, I believe there is no synergy or coordination between the Centre, state and Delhi Police and therefore there is lack of a coordinated response in dealing with issue of women safety. I suggested that a forum should be set up in which LG, Minister Home Affairs, Delhi Chief Minister and DCW should atleast meet twice a month. They should review whatever steps are measures are being taken," she added.
During the 20-minute long meeting, the DCW chief also raised the issue of fixing accountability of police.
"We have got certain statistics. For instance, only 13 out of 4000 complaints received by police through himmat application were acted upon. Similarly, charge sheets are filed only in one-third cases and rest remain pending. Hence, there needs to be a mechanism to fix accountability of police," she said.
"As Rajnath Singh is the political head of Delhi Police, I raised all these issues with him and urged him to dedicate one day every week to women security issues," she added.
In a submission to Singh, the DCW chairperson suggested measures to ensure women safety, insisting that investigation should be done in a time-bound manner by the Delhi Police.
Registration of FIRs and pendency of filing charge sheets should be closely monitored and accountability should be fixed in case there is an unwarranted delay in filing charge sheets, she said.
E-Governance should be adopted by the Delhi Police to closely monitor the FIRs being registered, charge sheets being filed.
The DCW has proposed to conduct a study into certain aspects of the functioning of police, in a letter addressed to the Commissioner of Police, the same should immediately be allowed, she said.
Maliwal demanded the Centre to immediately create 16,000 additional posts as requested by Delhi Police and recruit more women in the force. She also urged making available world-class technology at par with international counterparts to city cops.
The Commission chief urged Singh to "immediately" plan a manner of effective utilisation of Nirbhaya Fund for the national capital.
Expressing concerns over special task force (STF), formed under chairmanship of Union Home Secretary on women safety in Delhi, meeting only once in four months, the DCW insisted its deliberations should be held at least twice in a month with proper follow up.
"It is disturbing that despite the nation's capital witnessing gruesome gang rapes of little girls, an emergency meeting of this task force was not convened. This situation needs to be rectified as at present, the STF appears to be a mere formality," Maliwal said.