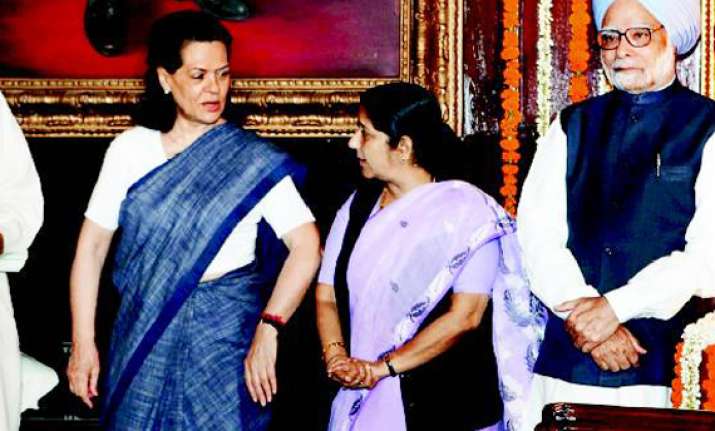 New Delhi, Mar 7: The Congress party's poor show in the just-concluded Assembly polls in five states has raised questions over its ability to get a candidate of its choice elected as the next President of India in the July poll.

With incumbent Pratibha Patil's term ending in July this year, the ruling UPA coalition will have to start the search for an acceptable candidate over whom a consensus could be arrived at.

The UPA, unlike in 2007 when it had the Left combine which solidly backed the ruling coalition's nominee Patil, it has in the current dispensation allies like the Trinamool Congress which differs with the Congress on issues every now and then.

The Congress, which does not have a majority either in the Lok Sabha or the Rajya Sabha, is estimated to have a voteshare of 30 per cent in the Presidential electoral college and has to depend on its allies, friends who support the government from outside and others who can be counted upon. The Congress itself has over 275 MPs in both the Houses which account for a vote value of over 1,90,000 and a value of about 1,35,000 in the legislatures.

With only one third of the total vote value in its kitty, the Congress will have to walk the extra mile to see its flock intact in the ruling coalition and to woo those outside.

The election results have not given any comfort to the Congress especially in Uttar Pradesh where it had hoped to do better. The spectacular victory by Samajwadi Party, which provides outside support to the government at the Centre, puts further pressure on the Congress in dealing with it.

In the 2007 election, BJP put up the late Vice President Bhairon Singh Shekhawat as a candidate against Patil, who was backed by its allies in the NDA.  At the end, Patil won by a vote value of 6,38,116 as against Shekhawat's 3,31,306.

Asked if BJP would help the Congress by supporting its candidate in the Presidential election, senior party leader Arun Jaitley said in a television programme yesterday that the government should first decide its candidate and come to it for consultation.

In the coming elections, Congress' problems will be compounded by the fact that the votes it had in the form of support from Tamil Nadu has been eroded tremendously with its defeat in the state along with that of the dominant ally DMK. Another major state West Bengal has landed in the hands of Mamata Banerjee's Trinamool Congress which has become a difficult ally.

One more disconcerting factor is the coming together of non-Congress, non-BJP Chief Ministers on issues like terror and Food Security Bill whose emergence could put constraints on the UPA's choice.