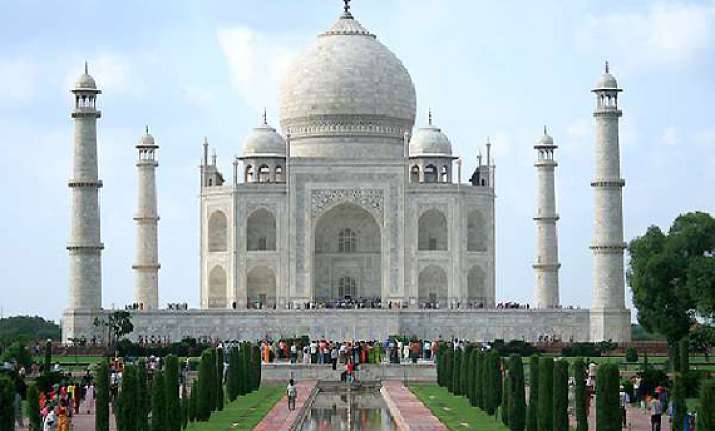 New Delhi, Jan 27: A minaret of the famed Taj Mahal has recorded a tilt of 3.57 cm in three decades but overall there is no significant change in heights of points lying on the main structure of the monument.

This has been revealed in an affidavit filed by the Archaeological Survey of India(ASI) in the Supreme Court which had issued a direction in this regard in December last year. 

"South west minaret remained quite stable till 1976-77 but during the past three decades, the magnitude of tilt for spike centre increased about 3.57 cm in 2009-10 compared with 1976-77," said the affidavit filed by ASI Director General Gautam Sen Gupta.

It said the magnitude of the tilt for spike of south-west minar of the 359-year old monument has shown increasing trend when compared with past exercise results. 

The affidavit also said heights of some bench marks, which lie outside the main structure, were compared against their values observed in 1940-41 and differences were plotted. 

"It has been noticed that differences have slowly moved from positive to negative values over the period of time and 2011-2012 observation have shown the same trend and recorded almost the same height difference as compared to last observation epoch of 1994-95.

"Hence, there has been no significant change in heights of points which are lying outside the main structure during the latest epoch," it said.

The affidavit was filed in response to the apex court's direction for the latest survey report on the Taj Mahal in view of reports that the historical monument was facing danger to its structure owing to environmental pollution.

The tilt of minaret in 2012 is 0.52cm when compared with initial values for top centre observed in 1977. Thus, no significant change in the magnitude of tilt was noticed for NE minaret.

"Similarly, the computed values of tilt of spike centre and top centre of north west and south east minaret have recorded no significant change while compared with values observed in 1952-53 and 1976-77 respectively. But tilt of dome centre of north west and south east minaret is 0.75 and 0.82 cm respectively, compared with values of 1952-53, the ASI said.

It said these values continue to remain within permissible limit of geodetic accuracy, within the expected standard errors of levelling which can be inferred that the structure has remained quite stable in elevation from 1941-to 2011.

"The results of the recent exercise to determine the tilt of minarets, their horizontal and vertical movements and those of the structure as a whole have shown that the minarets of Taj Mahal have remained stable and the changes found are insignificant and is well in agreement within the permissible limits of geodetic observational accuracy," the ASI said quoting the survey report.