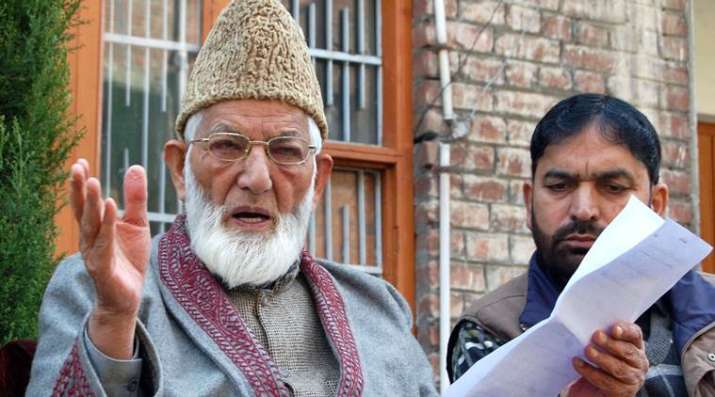 The National Investigation Agency (NIA) has summoned the elder son of Hurriyat leader Syed Ali Shah Geelani for questioning as part of its ongoing probe into terror funding. 
Around 30 other persons have also been called to join questioning along with Geelani's son. The NIA suspects these people to be acting as middlemen between stone-pelters and Hurriyat leaders.


The development follows the arrest of seven separatist leaders, including Geelani's son-in-law Altaf Ahmed, more popularly known as Altaf Fantoosh, and were produced before a Delhi court which sent them to 10 days of NIA custody.


The NIA will examine their complicity in a case of alleged terror funding in the Kashmir Valley to fuel unrest.
The seven arrested Hurriyat leaders will also undergo polygraph test with court's consent in the NIA's probe into the terror funding case.


The NIA, police sources said, is now looking to establish the route of the terror funding, both national and international.


The Dubai route is particularly under the probe lens to establish whether money was being routed through over-invoicing in businesses to help terrorists.
They may also be taken to the Valley for investigation to unearth their modus operandi to raise funds to carry out secessionist and terror activities in the Valley.


While seeking the custody for interrogation, the NIA had told court that it had received information that Hafiz Saeed, head of Jamat-ul-Dawah, and separatists, including members of Hurriyat Conference, had been acting in connivance with banned outfits like Hizb-ul-Muzahideen, Lashkar-e-Taiba, Dukhtaran-e-Millat and others to raise and receive funds from inside and abroad through illegal channels, including hawala.
The money was being raised to fund separatist and terrorist activities in restive Jammu and Kashmir, it said.
The arrest of the separatist leaders follows raids at their houses by NIA sleuths last month.


The raids were part of the NIA's efforts at clamping down on separatist groups allegedly receiving funds for subversive activities in the valley.


The NIA had claimed that it recovered account books, Rs. 2 crore in cash and letterheads of banned terror groups, including of the LeT and the HM, during the raids.
(With PTI inputs)