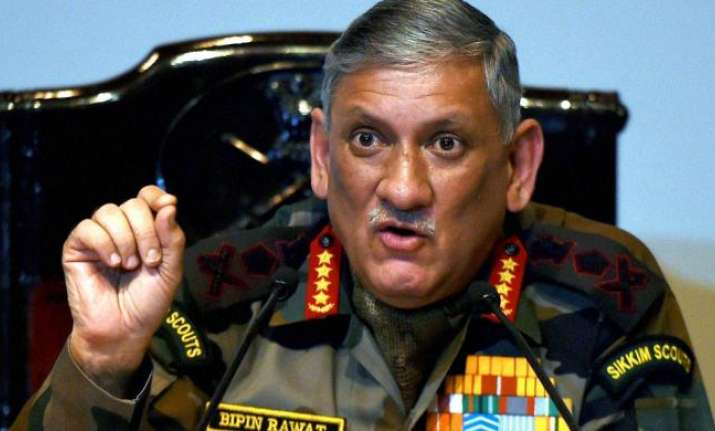 Amid the increasing unrest in Jammu and Kashmir, Army Chief Bipin Rawat on Saturday said that the security forces were doing a great job in bringing the situation in the Valley under control, adding that there was no cause for worry. 
He said the situation was troublesome only in some parts of south Kashmir but he was confident that it would be brought under control.
"Security forces and all agencies are doing a great job to bring the situation under control. Some parts of south Kashmir are troublesome. Necessary action is being taken to ensure that situation there is soon brought under control. I don't think there should be any cause of worry in any of you," he said.
He said that use of human shield in Kashmir was "circumstances-based" and would not be used as a standard operating procedure as his soldiers had "a very good human rights record" and were doing a "great job" to bring peace in the troubled state.
The army chief was talking to reporters after reviewing the combined graduation parade at the Air Force Academy at Dundigal here.
Rawat said there was misinformation and disinformation being spread among the people of Jammu and Kashmir which was causing trouble and possibly compelling some of the younger generation to take up arms.
"Some misinformation is being spread among people of J&K and possibly compelling some of the younger generations to pick up arms," he said.
"I am quite confident that they will soon understand that what they are doing is not good for their own state and people. All that armed forces and security forces want is peace and tranquility in the valley," he said.
"I am quite sure of some of young people who should have books and computers in their hands and preparing for exams to get into IITs and IIMs will soon be brought on the right side of the fence. They themselves will understand that they are not taking the right path.
I am quite confident that situation will be brought under control," he added.