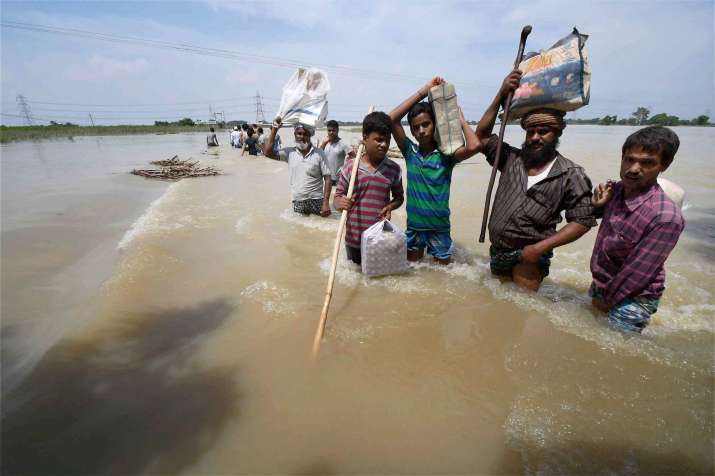 New Delhi: Floods claimed more lives in Assam, Bihar and West Bengal, where over a crore people are still affected and train services are yet to be completely restored. All trains to the Northeast from rest of the country have been cancelled till August 20 due to damages on tracks due to floods in Assam, West Bengal and Bihar, officials said today. 
Bihar
The toll in the flood rose to 72 in Bihar, where 73.44 lakh people have been hit by inundation in 14 districts triggered by incessant rains in Nepal and some districts in the northern part of the state. 
Special secretary in the state disaster management department, Anirudh Kumar said 73.44 lakh people are in the grip of flood which has engulfed 110 blocks and 1,151 panchayats in 14 districts of the state, the latest being Gopalganj, which was submerged today. 
Chief Minister Nitish Kumar, who was scheduled to conduct an aerial survey of Bettiah, Valmikinagar areas with Deputy Chief Minister Sushil Kumar Modi during the day could not do so due to bad weather. 
He, however, monitored the flood situation from Patna through interactions with senior officials. 
Train services continued to be affected due to the calamity and rail movement is completely disrupted in many sections, a statement from East Central Railways chief public relations officer Rajesh Kumar said. 
National Disaster Response Force (NDRF) personnel helped a pregnant lady deliver her baby on its rescue boat in the state's flood-ravaged Madhubani district. 
Assam
The flood situation in Assam continued to deteriorate with 11 more people losing their lives and 33.45 lakh people being affected across 24 districts in the state. Assam Chief Minister Sarbananda Sonowal left for Delhi during the day to meet Prime Minister Narendra Modi to apprise him of preliminary damage of the third wave of flood. 
Currently, 2,970 villages were under water and 1.43 lakh hectaes of crop were damaged. Assam State Disaster Management Authority (ASDMA) said the authorities are running 304 relief camps and distribution centres in 21 districts, where 1,38,648 people have taken shelter. 
Over 4,600 persons have been evacuated to safer places by the SDRF and NDRF personnel in many districts. The flood has damaged embankments, roads, bridges and other infrastructures in several districts. 
Brahmaputra river is now flowing above the danger marks at Guwahati, Nimatighat in Jorhat, Tezpur in Sonitpur, Goalpara and Dhubri towns. 
West Bengal
In West Bengal, at least 32 people have died and over 14 lakh people affected so far due to floods in the six districts caused partly due to overflowing rivers of Bhutan, Bihar and Jharkhand. 
"While 30 persons drowned, two died due to snake bites. Besides, 104 domestic animals have died so far in the flood," a officer senior official in West Bengal's disaster Management Department said. 
Jalpaiguri received 30 mm rainfall in 24 hours till this morning, the highest recorded during the period in the region, the MeT department said. The IMD issued thunderstorm and lightning warning in 18 districts of Odisha. 
Bengaluru
Bengaluru was battered by 12.8 cm rains in five hours between Monday night and Tuesday morning, which is the highest in a day in August since 1890. 
Parts of Bengaluru, which experienced heavy downpour over the last two days, are slowly limping back to normalcy with a letup in the rains till evening. 
Uttarakhand
In Uttarakhand, two more bodies were recovered from Dharchula area of Pithoragarh district, taking the death toll in the recent cloudbursts to eight as relief and rescue operations continued in search of the missing, DGP Anil Raturi said. 
Damaged trek route between Mangti and Malpa which were hit by cloudbursts has resulted in temporary suspension of Kailas Mansarovar Yatra with 47 pilgrims of the 16th batch airlifted to Dharchula by helicopters and 23 members of the 13th returning batch airlifted to Pithoragarh from Gunji.
Himachal Pradesh
In Himachal Pradesh, rescue operations by the National Disaster Response Force (NDRF), state police, homeguards and other agencies to dig out bodies from the buses buried under debris following a massive landslide at Kotrupi in Mandi district continued for the fifth day but there was no success and the death toll remained at 46. 
45 bodies have been identified so far with the help of forensic experts. 
Deputy Commissioner Sandeep Kadam said there was no major threat of landslides and the people in four adjoining villages have been asked to move to safer places. 
Special Secretary and Director Management D D Sharma said that Rs 50 crore has been released to all deputy commissioners to pay relief and compensation to all the people affected by natural calamities.
(With PTI inputs)