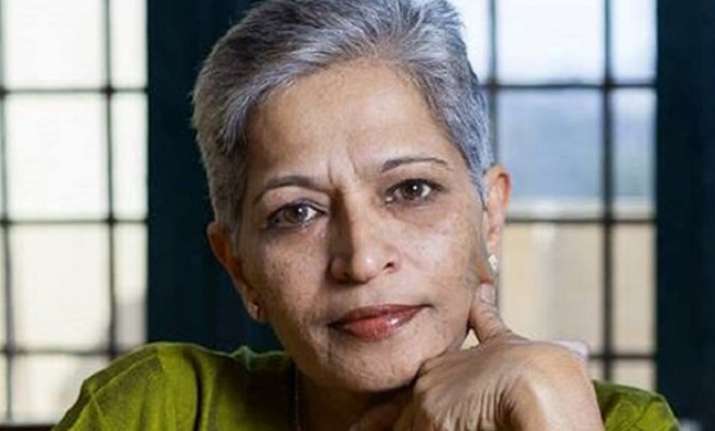 Senior journalist Gauri Lankesh who was murdered at her Bengaluru home on Tuesday by unknown assailants had recently met Karnataka Chief Minister Siddaramaiah to discuss possible surrender of top Naxalites, sources told India TV, adding that she was behind the surrender and reforms of some naxalites in the past which had put her on their hit list. 
According to India TV sources, in her recent meeting with Siddaramaiah, Lankesh had discussed two things with the Chief Minister - naxal surrender and advertisement for her tabloid, Gauri Lankesh Patrike. 
In the past as well, Lankesh had brought some top Naxal leaders to mainstream. 
Talking to India TV, her brother Indrajeet Lankesh said, "Naxalites were returning to mainstream with the help of my sister. She was also working with Chief Minister on this. She had brought Naxal leader Nagraj and her sister to mainstream and my sources have told me that this had irked Maoists who had distributed pamphlets against her. State Home Minister Ramalinga Reddy has also said the Naxal angle could not be ruled out. He has also said that Gauri received some hate mails."
On the Special Investigating Team (SIT) probe that began its investigation today, Indrajeet said, "I want to say to the SIT that it will get my complete cooperation. A woman and a journalist has been murdered in Bengaluru and I will cooperate if the probe is in the right direction. 
Gauri Lankesh, who was known to be an anti-establishment voice with strident anti-right wing views, was shot dead at close range by unknown assailants at her Bengaluru home on the night of September 5. 
Karnataka government had yesterday announced the formation of a 21-member SIT team headed by IGP (Intelligence) B K Singh with DCP (West) M N Anucheth as the Investigating Officer to probe the killing of Gauri that led to a wave of countrywide protests and condemnation across the political spectrum.
"SIT members have started their investigation into the Gauri Lankesh murder case and the state government is hopeful of nabbing the assailants as soon as possible," state Home Minister Ramalinga Reddy told reporters here.