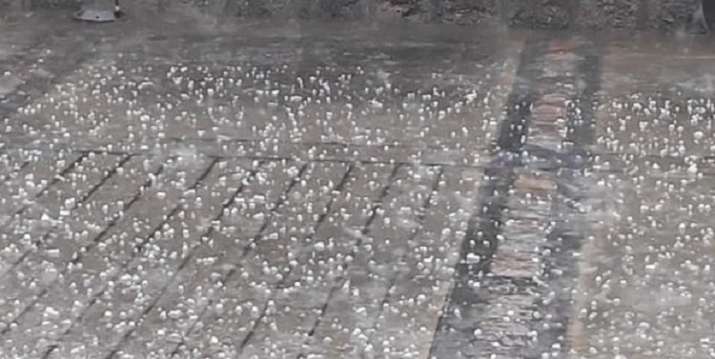 Delhi and adjoining areas witnessed heavy rains accompanied with hailstorm on Thursday afternoon. Intermittent rains and hailstorm have brought the mercury further down in the national capital region which has already been feeling the chill since past few days. Traffic in the national capital and nearby areas Noida, Ghaziabad, Gurgaon and Faridabad was badly hit following the sudden weather change. 
Heavy rains and hailstrom accompanied by strong winds brought the mercury down by four to five notches and causing several flights to be diverted to nearby cities.
The minimum temperature in the city settled at 15 degrees Celsius, six notches above the season's average and the maximum temperature was recorded at 19.1 degrees Celsius, four notches below the season's average.
The Safdarjung observatory, whose reading is considered the official figure for the city, recorded 4.8mm rainfall between 8.30 am and 8.30 pm. Rains continued even after that but figures for the same were not available.
WATCH VIDEO:
Several flights diverted 
Operations at the Delhi airport saw massive disruption as 38 flights had to be diverted between 6 pm and 8.45 pm, and several others faced delays of over two hours due to unfavourable weather conditions. Operations of smaller aircraft such as the Bombardier and the ATR were suspended for a while due to strong winds but resumed later, airport officials said.
Airport officials said 14 domestic flights and four international ones were diverted to nearby cities between 6 pm and 7 pm as several parts of Delhi and nearby areas reported severe rain and hailstorm.
"In between 6 pm and 7 pm, nine flights were diverted to Jaipur airport. In the same time period, three flights each were diverted to Lucknow airport and Amritsar airport. Two flights were diverted to Varanasi and one flight to Indore in this one-hour period," the official added. 
Many parts of #Delhi and #NCR region are experiencing #hailstorm activities.#noidaweather #DelhiWeather #ncrweather #noidarains #delhirains #ncrrains @TOIDelhi @TOINoida @HTNoidaGzb pic.twitter.com/QU5jSwrO47

— SkymetWeather (@SkymetWeather) February 7, 2019
According to another airport official, four out of the nine flights diverted to Jaipur were of Air India. "These four flights of Air India were heading to Delhi from Varanasi, Kathmandu, Dubai and Kabul," he said.
Vistara airlines said on Twitter that its flight from Guwahati to Delhi was diverted to Jaipur due to bad weather. It added that its Bangalore-Delhi flight was diverted to Lucknow and its Kolkata-Delhi flight was diverted to Varanasi. 
WATCH: Heavy rains, hailstorm in Delhi-NCR