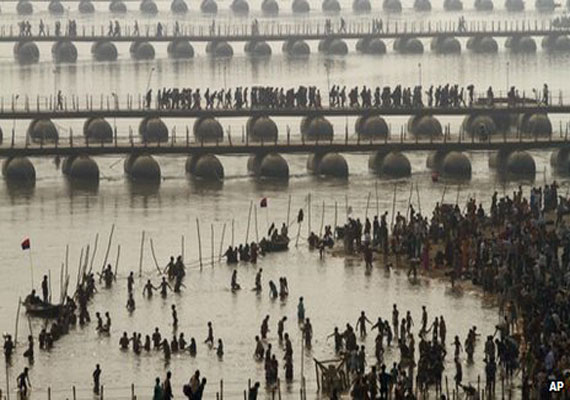 New Delhi, Jan 21:
Nearly forty thieves came with labourers, two cranes and 20 gas cutters, to steal nearly half of the unused Yamuna river pontoon bridge near Geeta Colony.



The theft came to light  last evening, when PWD officials came to the spot to see labourers carting away sawed off iron portions of capsules.

Two persons have been arrested. The theft didn't take place in a day. The thieves took 3 days, brought hired trucks, and packed off the portions of iron capsules after they were cut with oxy-acytelene gas cylinders.

The thieves had the temerity to tell the guard posted there saying they had come as contractors from the Public Works department. They also showed the guard fake permission letter purportedly from the PWD.

Two years ago, the pontoon bridge was set up by using 45 huge iron capsules, but were later removed as the bridge was found unsafe. Meanwhile, a new flyover had been built near Geeta Colony.

The 45 iron capsules lay on the riverbed for nearly two years and they caught the attention of a gang of thieves, who stole 13 of the capsules, costing several crores of rupees.

A large number of used oxy acytelene cylinders were found from the spot.

Police is now tracing the scrap dealers who had bought the iron. The role of PWD staff is also being investigated.