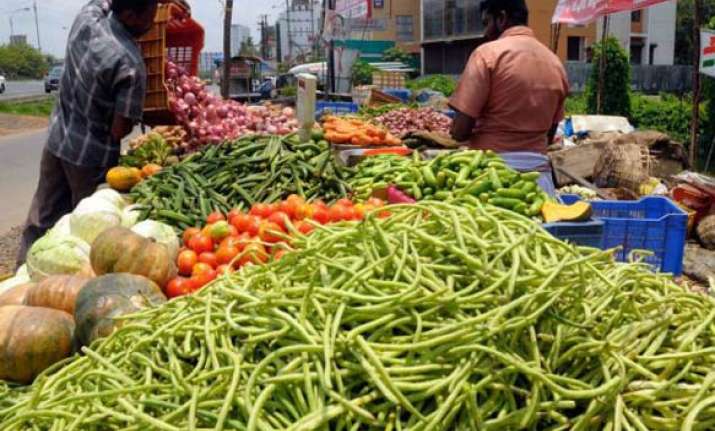 New Delhi, June 16:  Food inflation went down marginally to 8.96 per cent for the week ended June 4 on the back of cheaper pulses and vegetables.Food inflation, as measured by the Wholesale Price Index (WPI), stood at 9.01 per cent in the previous week, while it was over 21 per cent in the first week of June last year. 
The latest fall, although very marginal, is likely to be seen as a silver lining by the government, which has been battling the high rate of price rise across all segments for the past few months and also had to contend with low economic growth and factory output numbers in recent months.  Headline inflation in the country stood at 9.06 per cent in May.

The Reserve Bank has already hiked its key policy rates 10 times since March, 2010, to tame demand and curb inflation.  The latest hike of 25 basis points in the short-term lending (repo) and borrowing (reverse repo) rates was announced today.  During the week under review, prices of pulses went down by over 10 per cent year-on-year, while vegetables became cheaper by 1.39 per cent.

However, prices of other food items continued to move upward.Fruits became almost 30 per cent more expensive, while milk was up 10.59 per cent. Eggs, meat and fish became dearer by 7.31 per cent on an annual basis.
The prices of onions went up by 12.17 per cent and potatoes by 1.14 per cent. Cereals were also up by 5.25 per cent. Overall, inflation in primary articles stood at 12.86 per cent during the week under review, up from 11.52 per cent in the previous week. Primary articles have a share of 20 per cent in the overall WPI basket.

Meanwhile, inflation in non-food primary articles stood at 20.20 per cent during the week under review, a slight dip from 20.97 per cent in the previous week.  Fibres became 53.54 per cent more expensive and minerals were up 25.90 per cent. Fuel and power became dearer by 12.84 per cent and petrol was up 33.23 per cent.  Headline inflation has been above the 8 per cent mark since January, 2010.

In its annual monetary policy for 2011-12 announced last month, the Reserve Bank had said that inflationary pressure will continue for the next few months on account of high international commodity prices, particularly of crude.  It had said that headline inflation would be driven more by commodities like oil in the near future, rather than high food prices, as was the case during most of 2010.  The RBI had projected headline inflation to average 9 per cent during the first half of the fiscal, before moderating to around 6 per cent by March, 2012.

Food inflation was in double digits for most of last year, before showing signs of moderation since March this year. However, it had again breached the 9 per cent mark during the last week of May after a gap of two months.The government had to deal with a series of bad news during recent weeks on the economic front. While January-March economic growth stood at 7.8 per cent, the lowest in five quarters, industrial output also slowed down to 6.3 per cent in April. PTI