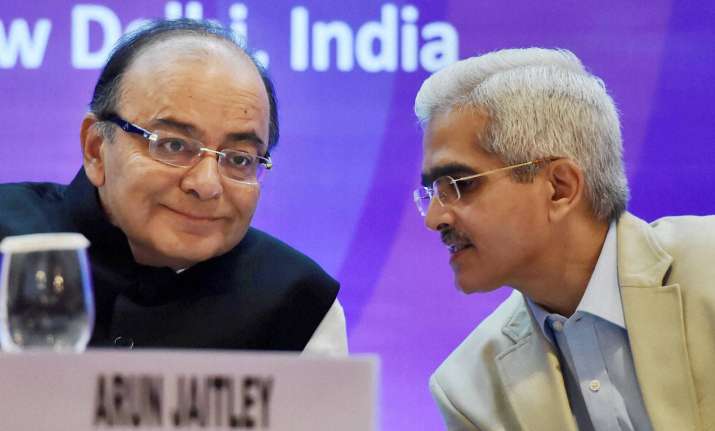 Two days after Moody's said that it would take 1-2 years for it to improve India's rating depending upon the initiatives of the government, the Finance Ministry today expressed concerns about the "methodology" used by the credit rating agency.
The Finance ministry today said the global agency has ignored reforms initiated by the government and it should not wait "till infinity" for them to take root before upgrading the country's sovereign rating. 
"Our concern was mainly about the methodology of the whole process... Of course, the rating agencies are free to arrive at their own conclusion...," Economic Affairs Secretary Shaktikanta Das said.  
"I thought the due process has to be followed and you cannot jump the gun," he said, alluding to Moody's making certain comments in public a day before having met the Finance Ministry.  
Calling the reform process slow and gradual with muted private investment and bad loans posing a challenge, Moody's said on Tuesday it could upgrade India's rating in 1-2 years if it is convinced that reforms are "tangible".  
India's sovereign rating by Moody's stands at 'Baa3', the lowest investment grade -- just a notch above 'junk' status.  
It said that the credit implications of reforms will materialise in the medium term, fostering a more stable macroeconomic environment conducive to fiscal consolidation.  
In the nearer term, challenging budget targets could lead to significant spending cuts late in the fiscal year, especially since in the first four months of the fiscal year, 74 per cent of the whole year's budget target has already been reached.  
Das added, "We found the methodology to be deficient. That is something we pointed out. So we expressed our serious concerns about the methodology that they are following. Then, there were other issues. We explained to them about the reforms gathering roots and developing sufficient depth."  
During meeting with the Finance Ministry yesterday, representatives from Moody's are learnt to have said that a rating upgrade could be a reality when the benefits of reforms could be felt on the ground and the country's banking sector stabilises.  
Das said: "The depth of the reforms in India cannot be doubted. It is a unidirectional process for the last several years, especially in the last two years. The pace of reforms, and the pace at which reforms are undertaken by the government due weightage has to be given to that.  
"You cannot say that I will give zero weightage and I will wait till infinity to see that these reforms take roots...I don't think...it should not be a kind of bottomless pit."  
In April last year, Moody's had changed India's rating outlook to 'positive' from 'stable' citing reform momentum and had said that it could consider India for an upgrade in next 12-18 months. 
During the meeting, the ministry also impressed upon the global rating agency about the government's resolve to contain fiscal deficit at 3.5 per cent of GDP in the current fiscal.  
Moody's Investors Service, formally called as Moody's, called the reform process in India slow and gradual with muted private investment and NPAs posing a challenge.  
"We have a positive outlook on India. On balance, the risk is on the upside. We are continuously monitoring the rating. We see pressure building up in 1-2 years and any tangible change could bring about a change in rating," Moody's Sovereign Group Senior V-P Marie Diron told reporters. 
Moody's listed six agenda on the list of pending reforms -- land acquisition Bill, labour law reforms, significant infrastructure investment, tangible benefit from Make in India initiative, tax administration and PSU bank reforms. 
Stressing that weak financial health of PSU banks continues to pose contingent liability risk and muted private sector investment constrains India's ratings, Diron said external sector vulnerability and geo-political risks could pose additional pressure. 
Moody's Investors Service had in April 2015 revised India's outlook to positive from stable and said it could upgrade rating in 12-18 months. 
Asked if policies are moving in the direction as envisaged by Moody's for an upgrade, Diron said: "We have seen progress in implementation of reforms. What we did not anticipate is the weakness of private investment."