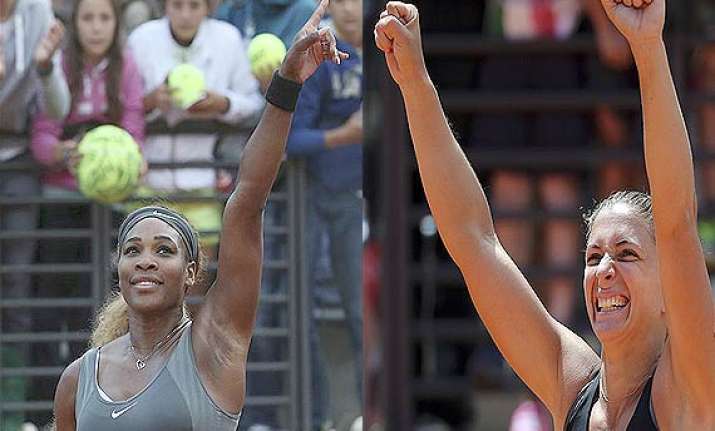 ROME: Sara Errani became the first home player to reach the Italian Open final in nearly 30 years Saturday, and she'll face top-ranked Serena Williams for the trophy.
Using vocal crowd support to her advantage, the 10th-seeded Errani fought back from a 4-1 deficit in the second set for a 6-3, 7-5 win over sixth-seeded Jelena Jankovic.   
Williams overcame a second-set lapse to beat 11th-seeded Ana Ivanovic 6-1, 3-6, 6-1 and gain a measure of revenge for a fourth-round loss to the Serb at this year's Australian Open.   
Williams is aiming for her third Rome title, having won this clay-court tuneup for Roland Garros in 2002 and last year. The American is 6-0 in her career against Errani and lost just one game in their last meeting, in the semifinals of last year's French Open.   
"She's just taken her game to a whole new level and she has so much confidence beating two really good top-10 players and two really great clay-court players," Williams said, also referring to Errani's win over second-seeded Li Na in the quarterfinals. "So I have a lot of work to do tomorrow. It's not going to be easy. And she has nothing to lose and she has the crowd behind her. So it's going to be a really tough match for me."   
In the men's final, Novak Djokovic will meet either seven-time Rome champion Rafael Nadal or Grigor Dimitrov.   
Djokovic took his time before figuring out Milos Raonic's massive serve for a 6-7 (5), 7-6 (4), 6-3 victory. The match was highly tactical, with Raonic serving near 230 kph (more than 140 mph) and firing 16 aces.   
"I can't recall the last time when I was feeling so helpless in the return games," Djokovic said. "It was brutal."   
Afterward, Djokovic appealed for help for his flood-hit native Serbia, and wrote a message of support on a camera lens, adding `I love you' in Cyrillic.   
"This is a total catastrophe of biblical proportions," he said. "Half the country is in danger of not having electricity."   
Errani drew emotion from the crowd.   
"There were a few moments when I thought I might not pull it off but the fans were huge," said Errani, who is attempting to become the first Italian to win the tournament since Raffaella Reggi took the 1985 title in Taranto.   
The last Italian man to win was Adriano Panatta back in 1976.   
It's already Errani's best result since reaching the 2012 French Open final, and gives her momentum heading back to Roland Garros next week.   
Jankovic, the 2007 and 2008 Rome champion, repeatedly asked the chair umpire to come down and check marks but none of them were overturned, resulting only in the crowd stepping up its encouragement for Errani.   
"Just do it, Sara. Just do it, Sara," the fans cheered late in the second set.   
The highly partisan crowd frequently applauded Errani while points were still being played and cheered even when Jankovic double faulted.   
"(The crowd) was all on her side but it's normal, she's the local player," Jankovic said. "I tried to stay focused on my game, and play my tennis but she was the better player today."   
Errani also reached the doubles final and her partner Roberta Vinci sat in her box. Her parents and brother were on hand, too.   
"Having them here is key," Errani said. "They give me that extra motivation so I'm not just playing for myself but for them, too, and that makes me even stronger."   
Known for her consistency, Errani committed just 11 unforced errors to Jankovic's 28.   
Jankovic attempted to attack Errani's abbreviated serving style but she had more trouble on her own serve, and faced 16 break points -- five of which Errani converted.   
"She's not going to give you free points," Jankovic said. "She keeps making you hit and hit and I needed to come more to the net and finish those points. When I was doing that I was winning but when I stopped she took advantage."