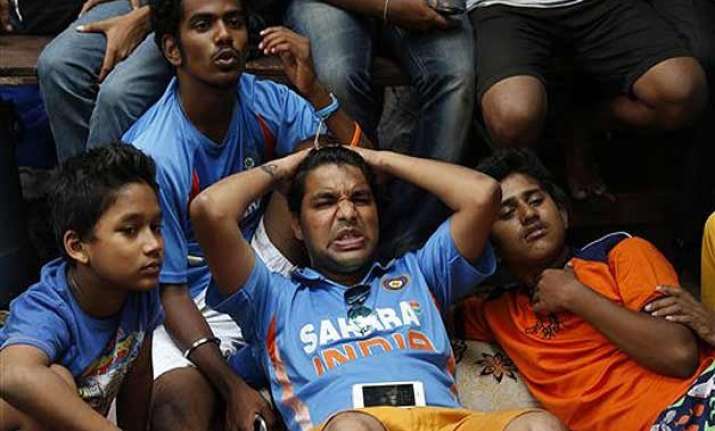 Sydney/New Delhi: A pall of gloom descended on the Indian dressing room after the team's campaign in the World Cup came to an agonising end here today, and the pain of losing the semi-finals engulfed the entire cricket-crazy nation that was left grief-stricken.
Disappointment was writ large on the faces of players and their captain Mahendra Singh Dhoni after they succumbed to pressure against the clinical Australians, who decimated the defending champions by 95 runs to romp into the finals and break a million Indian hearts.
While Dhoni and his men managed to put up a brave face at the post-match presentation ceremony, many broke down at the Sydney Cricket Ground and miles away from the hallowed turf.
Angst was also one of emotions on display in a country that lives by the cliche 'cricket is religion and cricketers are God'.
A man reportedly broke his television set in Ranchi, the hometown of Dhoni, while a few of them were learnt to have burnt the posters of their favourite icons.
While a family in the capital has gone into mourning cancelling a planned weekend celebration, in Mumbai and Kolkata, supporters of the Men in Blue were seen consoling each other with a hug after the defeat.
The Indians in Australia and back in India had planned their Sunday keeping the grand finale in mind, only to see their hopes being dashed by this loss.
"I had planned a leave on Sunday hoping to watch the match in the comforts of my home. I begged my boss to grant me leave... Now I am feeling shattered, so badly I wanted them to win," said Trisha, a young journalist.