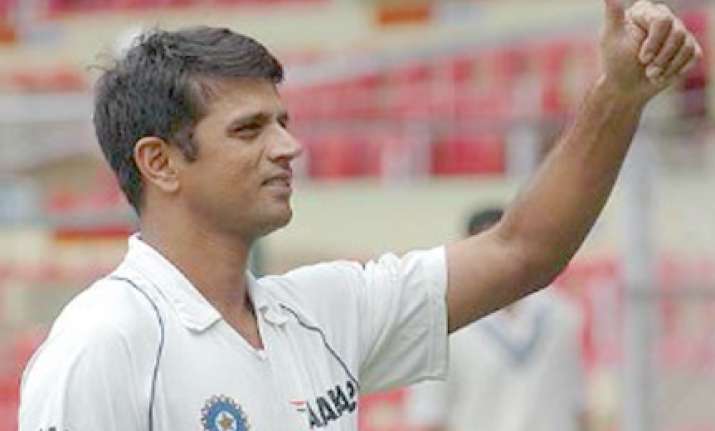 Mohali, Oct 3: Senior batsman Rahul Dravid insists that India have not let advantage slip out of their hands and is hoping that the hosts spinners would be able to turn the first cricket Test in their favour.
The match is even balanced after day three as India conceded a small 23-run lead against Australia after being bowled out for 405.
"I see good chances of a result. It should be a good contest between bat and the ball," Dravid told reporters after the third day's play.
The wicket is good. There are a rough areas, however, from where an odd ball rises. We expect the wicket to crack a little bit and the two quality spinners (Harbhajan and Ojha) should be able to exploit the conditions tomorrow."
India were going great guns at one stage but a dramatic batting collapse dented their chances of taking a lead.
However, Dravid said, "I wouldn't say we let the game slip out of our hands, but you've got to give credit to the Australian bowlers the way they bowled in the last session. The game still is evenly poised and I think if we can restrict them to 250-260, it should be comfortable for us."
Dravid said the morning session would be crucial both the sides and whoever does well in the first two hours would reach an advantageous position.
"The Test is poised well. Tomorrow's first session is going to be quite crucial for us. We will need to take some quick wickets and restrict them for as less runs as we can so that we can put them under pressure. Obviously, if they bat well then they can put us on the backfoot," Dravid, who hit a 77-run knock, said.
VVS Laxman's absence from batting at his regular position also did not help India's cause.
"He had a back spasm, that was the reason he did not come out to bat. It was something which affected us a little bit because we lacked an expert batsman, especially when we had built the partnerships. That was one factor, but sometimes you cant help it, that's the way the game is," Dravid said.
  He, however, rued that none of the well-set batsmen, went on to make a big score, which would have helped India take lead.
"Raina's partnership with Tendulkar (144 runs) was crucial for us and the way he played and moved on very quickly helped us. The game is still in balance and we have got a good chance tomorrow," Dravid said.
Dravid was happy to get some runs under his belt after not so impressive Sri Lanka series but said he was not under pressure.
"There was not any additional pressure on me. You want to keep scoring runs. Yes, I did not get many runs in Sri Lanka, but batted well here," he said. PTI