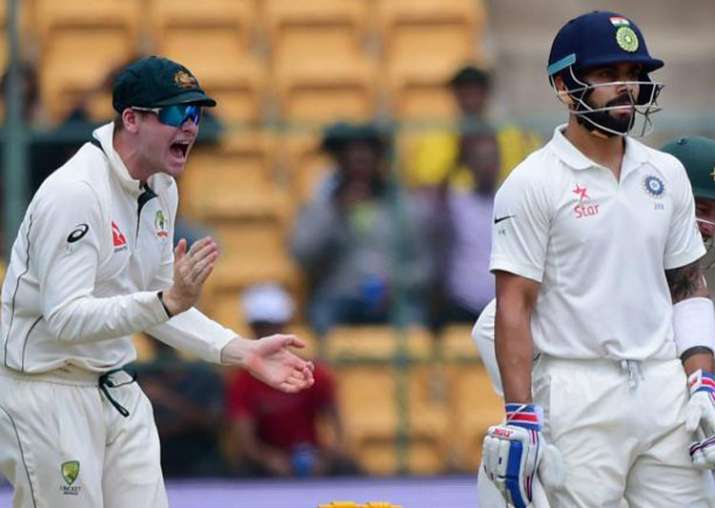 Australia captain Steve Smith has again racked up his infamous feud with India captain Virat Kohli which dominated the headlines during the four-Test Border-Gavaskar series held in India earlier this year. India, who eventually won the series 2-1, faced an embarrassing 333-run defeat against Australia in the first Test in Pune and were desperate to bounce back in the second match in Bengaluru - which they did by winning the Test by 75 runs.
However, the match ended in controversy after Smith was caught looking towards the dressing room balcony for advice on DRS appeal against his dismissal. The entire incident snowballed into a huge controversy threatening to overshadow the contest.
While Smith, at that point of time, called it a 'brain fade' on his part, Kohli stopped short of calling Smith a cheat but said he had seen the Australian players seeking dressing room's advice twice before making DRS calls.
As the issue threatened to escalate, the ICC intervened and brokered peace without penalising anyone.
Recounting the ill-fated incident, the Australian captain told ESPNCricinfo that Kohli's claims were "rubbish".
"It wasn't until afterwards that I realised what a talking point it had become, fuelled by Kohli's post-match claims that we'd called on off-field assistance twice earlier in the match to help our on-field deliberations," Smith wrote in his book, The Journey. 
"As far as I was concerned, we'd never tried to consult with the dressing room beforehand and although he said he'd brought those previous occasions to the notice of the umpires, I can say categorically that we were never spoken to by either those umpires or match referee Chris Broad about any such breaches in protocol," he said.
"Virat has always been a player who's thrived in the most intense of environments, and like me, he loves a battle and I can only think it was his way of raising the temperature in the series in an attempt to get the best out of himself. The idea of getting messages from the sidelines for that purpose was not a tactic we as a team ever spoke about and ... I can't work out what he was referring to in his remarks," he added.
Smith said it was still a "big mystery" to him as to what prompted Kohli to make such accusations.
"There was never anything further on the matter from the ICC and Virat never detailed the incidents he was referring to. And during the brief interactions we had - including at the captain's briefing for the IPL as that tournament followed the series - he was friendly and it was as if any ill-feeling he may have had over the incident had disappeared. It was and still is all a big mystery to me," he said.
Smith further expressed his disappointment on BCCI playing up an on-field exchange between Ravindra Jadeja and Matthew Wade during the last Test in Dharamsala, which India won to clinch the series. Smith said it only presented one side of the story.
"It was an example of the banter that took place on the field, but it gave a very one-sided view of what was happening. There would have been plenty of examples that could have been released of Indian players engaging with me and my team, such as when they were constantly in the ears of Matt Renshaw when he resumed his first innings in Pune having had to retire ill because of diarrhoea. Ian Gould asked Matthew and Ravindra to cut it out in Dharamsala and that was where it ended. So to rake it up in the way that it was benefited no-one," he said.