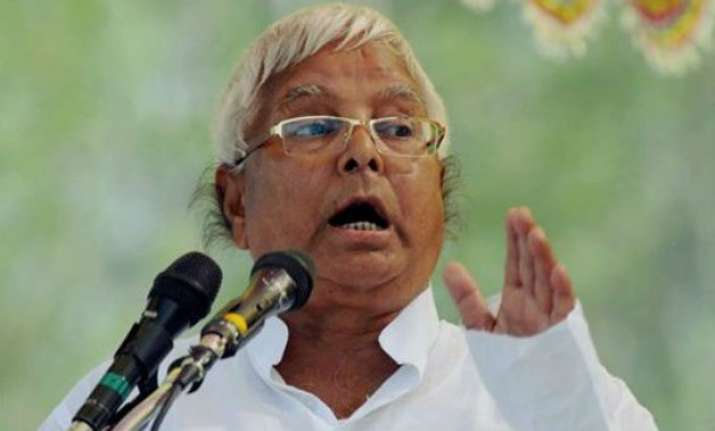 Patna: Rashtriya Janata Dal (RJD) chief Lalu Prasad Yadav on Wednesday indicated that he may part his ways from the much-hyped Janata Parivar.
Prasad is reportedly unhappy with the contradictory stand taken by former Bihar CM and Janata Dal (United) leader, Nitish Kumar, to support Aam Aadmi Party (AAP) in Delhi Assembly polls instead of Congress.
He said, "I am going to wage a war against BJP on my own even if no one joins me. Those who want to come, can come."
Nitish's decision came as a huge embarrassment to the Congress and the RJD with AICC member and chief spokesman of state unit, Prem Chandra Mishra, saying that the party will force central leadership to review its decision of continuing support to the JD(U) in Bihar.
Prasad also said that he would lead a peaceful march to state BJP headquarters in state capital on March 15 to demand that Rs 15,000 be deposited in every bank account as promised in the Jan Dhan yojna.
"We have decided to undertake Raj Bhavan march on March 15 to expose the failures and false promises made by Narendra Modi government. I will lead a march from Gandhi Maidan here to BJP headquarters on March 15. Lakhs of people will come with me and we will demand that Rs 15,000 should be immediately deposited in all bank accounts opened under Jan Dhan Yojana," he said.
Meanwhile, reports suggested that Nitish will again give a miss to tomorrow's meeting of Janata Parivar constituents in New Delhi.
The total strength of Janata Parivar, six constituents of the erstwhile 'Janata Party', is confined to just 13 seats in Lok Sabha and differences have cropped up among them on the issue of president's post.